Former Prisoner of Conscience Truong Van Kim Attacked by Under-covered Policemen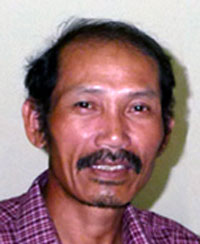 Defend the Defenders, June 22, 2018
On June 22, plainclothes agents attacked former prisoner of conscience Truong Van Kim when he was going to his field in Di Linh district, Lam Dong province, former prisoner of conscience Do Thi Minh Hanh has announced.
Ms. Hanh, incumbent president of the unsanctioned organization Viet Labor Movement, said Kim was followed by a grop of under-covered policemen when he left his house in the morning of Friday.
At the middle way, the policemen, also on their motorbikes, kicked his vehicle, trying to knock down him on street.
However, Kim escaped the attack and the thugs ran away.
This is not the first time under-covered police tried to assault him. On April 11 last year, he was attacked by a group of policemen.
Kim was a land petitioner. He and three other land petitioners namely Duong Au, Phung Quang Tuyen and Truong Thi Tam established the so-called Party for People. In late August 2010, they went to Cambodia to visit their friends and when returned, they were arrested and charged with "Fleeing abroad or defecting to stay overseas with a view to opposing the people's administration" under Article 91of the 1999 Penal Code.
Later, Kim and Tam were sentenced to three years in prison and three years under house arrest each while Au was given five years in prison and three years under house arrest and Quyen was sentenced to four year in prison.
After being released in 2012, Mr. Kim has been a subject of the local police's harassment.