Vietnam Human Rights Defenders' Weekly Report for June 25-July 1, 2018: Under-covered Policemen Maintain Week-lasting Persecution against Labor Activist Do Thi Minh Hanh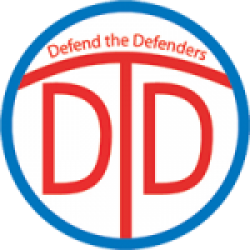 Defend the Defenders | July 1, 2018
Plainclothes agents in the Central Highlands province of Lam Dong are continously terrorizing labor activist and former prisoner of conscience Do Thi Minh Hanh and her old father for whole week.
Along with assaulting her on streets, under-covered policemen attack her by throwing stones and bricks at her father's house during nights. In June 25's night, they threw a hand-made bomb into the house but it failed to work. Due to the attacks, window glass and the doors of the front gate were broken.
Ms. Hanh tried to connect with the Di Linh communal police and the Di Linh district police by phones but they did not respond to her calls.
Under-covered policemen keep tight surveillance on her, closely following her when she goes for shopping.
Plainclothes agents also assaulted disable blogger Dinh Van Hai after his visit to share sympathy with Hanh. Thugs broke his hand and left shoulder bone.
Also in Lam Dong province, police in Duc Trong district had tried not to allow religious activist Hua Phi to go to a hospital to get medical treatment for injuries caused by attacks of plainclothes agents. He was forced to leave the province secretly to Ho Chi Minh City for treatments for blocken spinal bone and other internal injuries.
In early hours of June 25, under-covered police kidnapped female activist Cao Hoang Tram Anh who lives in Nha Trang city. Four men took her to an abandoned house where they tortured her physically and mentally for hours before releasing her in early morning. Before the abduction, police warned her twice not to participate in peaceful demonstrations on different issues, including the country's sovereignty and human rights violations.
Prominent human rights defender Nguyen Ngoc Nhu Quynh is being tortured mentally while serving her 10-year imprisonment in the Prison Camp No. 5 in Yen Dinh district, Thanh Hoa province. She is placed in the same cell with two other inmates one of them keeps cursing her with the worst words. The prison's authorities refuse to transfer her to another cell.
Meanwhile, authorities in Thanh Hoa province are harassing the family of imprisoned Protestant pastor  Nguyen Trung Ton, who was sentenced to 12 years in prison and four years of probation in April on allegation of subversion. Police have summoned his wife Nguyen Thi Lanh to the local police station to interrogate her about her interviews to foreign media about the unjustice her family is facing, along implementing other tricks to halt her economic activities.
On June 26, the Former Vietnamese Prisoners of Conscience held a meeting with victims of the recent police harassment on the occasion of the United Nations International Day in Support of Victims of Torture. Police in Ho Chi Minh City blocked Pham Ba Hai and Le Cong Dinh, coordinators of the organization from participating in the event held in a local cafeteria.
A group of Vietnamese activists has publicized a reportdescribing how the security forces brutally persecuted local activists and ordinary citizens on June 10 and June 17. The report covered information on police's torture against at least 38 activists and ordinary citizens, including Trinh Toan, Nguyen Thanh Loan, Truong Thi Ha and Nguyen Ngoc Lua.
Vietnamese President Tran Dai Quang has signed an order to promulgate the law on Cyber Security which was approved by the country's parliament on June 12. The move was made despite international and domestic call for its repeal.
===== June 25 =====
Vietnam Blogger 'Mother Mushroom' Fears Death in Prison
RFA: Jailed Vietnamese blogger Nguyen Ngoc Nhu Quynh, known also as "Mother Mushroom," now fears she may die in prison, citing hostile cellmates and poor living conditions, her mother says.
Quynh, who had published a blog under the name Me Nam or Mother Mushroom, was arrested on Oct. 10, 2016 and was sentenced in June 2017 to a decade in jail on charges of spreading "propaganda against the state" under Article 88 of Vietnam's Penal Code.
Speaking to RFA's Vietnamese Service on Wednesday, Quynh's mother Nguyen Thi Tuyet Lan said that her daughter says she can no longer endure what she described as the mental torture of her life each day behind bars.
"Before, when I was held at the Khanh Hoa detention center, they locked me up for two months in a room without adequate ventilation, but I was able to endure that," Quynh said according to Lan, who visited her on June 27 at Prison No. 5 in Thanh Hoa province's Yen Dinh district.
"But here, I can't bear things anymore," Quynh said.
"I am now held in a cell with three other people, and one of them is always cursing me with the worst words I have ever heard," she said. "She is so cruel that I cannot deal with her."
Guards have turned down Quynh's requests to be moved to another cell, calling the abuse a case of "common quarrels," Lan said, adding that her daughter has asked her now to visit her once a month to make sure she is still alive.
"She looked very tired when I saw her this time," Lan said.
Summoned, harassed
Vietnamese authorities have meanwhile ramped up their harassment of other dissidents and their families, summoning the wife of one prisoner to answer for her contacts with foreign media sources, the woman told RFA.
Nguyen Thi Lanh, wife of Nguyen Trung Ton, a jailed member of the online Brotherhood For Democracy advocacy group, said she had been called by police on June 26 to explain why she had given interviews to a "foreign radio station."
"I called the police and told them I would not cooperate with them, as I had not broken any law," Lanh told RFA on Wednesday. "And I said I had agreed to interviews because I view authorities' treatment of my husband as unjustifiable."
Plainclothes security officers, sometimes three, sometimes four, now follow her closely even when she shops or takes her child to school and disrupt her family's daily life, Lanh said.
Meanwhile, a former political prisoner living in Vietnam's coastal Lam Dong province reported a failed fire-bomb attack on June 26 against her rental home by unidentified assailants who later assaulted two of her friends.
Speaking by phone with RFA, Do Thi Minh Hanh, who was released in June 2014 after serving four years of a seven-year sentence for distributing leaflets to workers, said that she and her father heard motorbikes passing by their house in Di Linh district at about 11:00 p.m.
Her father shone a flashlight at the bikers, one of whom then threw an object into their gate, Hanh said.
"I went outside and saw a container with liquid running out of it, and saw that it was a Molotov cocktail," Hanh said, adding, "Luckily, it didn't work."
Two friends later came by to livestream a video account of what had happened, and were assaulted and beaten by unknown attackers after they left her house, Hanh said.
——————–
Vietnam Female Activist Kidnapped, Tortured Two Weeks after Participating in Peaceful Demonstrations
Defend the Defenders: Vietnamese female activist Cao Hoang Tram Anh has been kidnapped and tortured for hours two weeks after participating in recent peaceful demonstrations to protest two bills on Special Economic Zones and Cyber Security, the victim told Defend the Defenders.
Ms. Anh, a painting designer from the central province of Khanh Hoa and lives in its coastal city of Nha Trang, told Defend the Defenders that she was abducted by four men in early hours of June 25.
The men sprayed a liquid to her face so she fell unconscious and they took her to a abandoned house in the city where they tortured her physically and mentally for hours, Anh said.
They released her in the early morning of the same day, she said. She is still shocked and could not remember much of the incident.
After she went missing, other activists had alerted to seek for her on social network. They suggested that security forces in Khanh Hoa were under the abduction in response to her social engagement.
Anh told Defend the Defenders that before her kidnap, police in Khanh Hoa came to her apartment twice to request her not to write about politics.
Ms. Anh has posted a number of articles about country's issues on her Facebook account Hoang Paris, particularly on systemic corruption, human rights violations and the increasing Chinese influence on the Vietnamese regime despite Beijing's violations of the country's sovereignty in the South China Sea.
According to pictures circulated on social network, including Facebook, Ms. Anh participated in peaceful demonstrations in Nha Trang in mid-June.
On June 10, tens of thousands of Vietnamese rallied on streets of Hanoi, Ho Chi Minh City, Danang, Nha Trang and other cities to protest the bills on Special Economic Zones and Cyber Security. The peaceful demonstrations were biggest for decades which attracted ordinary peoples in many localities across the nation.
In response, the Vietnamese security forces responded aggressively, sending large numbers of riot police, militia and plainclothes agents to disperse the crowds. In many places, police used tear gas and smoke bombs as well as water cannons and even Long Range Acoustic Devices (LRADs) to suppress peaceful demonstrations on Sunday. According to state media, the devices were imported from the US for equiping patrol ships of the Vietnam Coast Guard.
Police were reported to detain hundreds of protestors during the protests or after that, most of them being interrogated and beaten for hours. Many activists, including Nguyen Thuy Hanh from Hanoi and Trinh Toan, his wife Nguyen Thanh Loan and Catholic follower Nguyen Ngoc Lua in HCM City suffered severe injuries after being attacked by police.
Defend the Defenders has learned that sometime police filmed peaceful demonstrations, recognizing the most active protestors or organizators so later they arrested them or summoned them to police stations for questioning and other forms of harassments.
In order to keep the country under a one-party regime, the communist government has little tolerance to local dissent. Along arresting hundreds of activists and sentencing them to lengthy imprisonments on trumped-up politically-motivated cases, Vietnam has also applied many forms of persecutionagainst dissidents, including kidnap and torture, close surveillance and block all economic activities as well as international travel ban.
Although the right to assembly is enshrined in the country's 2013 Constitution, the government does not welcome spontanous demonstrations and has violently dispersed the protests which can challenge its power. Peaceful protestors may be arrested and charged with "causing public disorders," "disrupting security" and "resisting on-duty state officials" in the Penal Code.
===== June 26 =====
Two Former Prisoners of Conscience Barred from Meeting to Mark UN Day in Support of Victims of Torture
Defend the Defenders: Authorities in Ho Chi Minh City have barred two former prisoners of conscience Le Cong Dinh and Pham Ba Hai from attending a meeting with other activists on the United Nations International Day in Support of Victims of Torture(June26), the victims said.
Mr. Pham Ba Hai, deputy director of Defend the Defenders and a coordinator of the Former Vietnamese Prisoners of Conscience, said plainclothes agents stationed near private residences of the two activists, effectively placing them de facto under house arrest on Tuesday.
Police and thugs were also deployed to a cafeteria where Saigon-based activists and some victims of police's torture on June 17-18 held talks, however, they stayed outside and did not disturb the event.
Prominent dissident Dr. Nguyen Dan Que, co-recipient of the 2016 Gwangju Prize for Human Rights was among the participants.
University student Truong Thi Ha, school teacher Nguyen Thanh Loan, and Catholic activist Nguyen Ngoc Lua, who were detained, interrogated and beaten by police on June 17-18, were invited guests of the event organized by the Former Vietnamese Prisoners of Conscience.
In the one-party Vietnam, police torture is systemic, according to Human Rights Watch. Local activists are subjects of arbitrary detentions, torture and kidnap while hundreds of ordinary people died in police stations nationwide in recent years from unclear circumstances, and the situation likely worsens.
On June 17, one week after tens of thousands of people rallied in HCM City to protest two bills on Special Economic Zones and Cyber Security, the local security forces arbitrarily detained hundreds of activists, ordinary citizens and tourists in the city's center and took them to Tao Dan Park where they robbed them, interrogated and tortured for hoursbefore releasing them in the late evening of Sunday or early morning of Monday.
The victims of the police torture on June 17 have been subjectsof police's harassments.
In response to Vietnam's police suppression of peaceful demonstrators in recent weekds, Human Rights Watch issued a statementcalling on Vietnam's government to investigate and prosecute as appropriate any security personnel responsible for excessive use of force, arbitrary detention, or ill-treatment in custody in the wake of the protests. Any protesters being held unjustly should be freed, said the New York-based human rights organization.
———————-
Private Residence of Labor Activist Do Thi Minh Hanh Attacked with Hand-made Bomb, Stones
Defend the Defenders: Under-covered policemen in the Central Highlands province of Lam Dong have attacked labor activist Do Thi Minh Hanh and her father with stones and a hand-made bomb in a bid to threaten the former prisoner of conscience, the victim told Defend the Defenders.
Ms. Hanh, president of the unsanctioned organization Viet Labor Movement, said that plainclothes agents have intensified their harassment against her in recent days.
On June 24, two plainclothes agents attempted to attack her near the private resident of her father in Di Linh district, where she lives in recent months with her old father who is around 80 now.
During nights, they have thrown stones into their house, breaking window glass and furniture of the house.
At 11 PM of June 26, they threw a hand-made bomb with TNT into the house, but luckily, the bomb did not work, Hanh said.
Hanh tried to call the local police to report the assault but they did not answer to her phones, she said.
The thugs attacked Hanh's house with stones again during June 30's night after cutting off electricity of the house, Hanh told Defend the Defenders.
Ms. Hanh, who was sentenced to seven years in prison on allegation of disrupting security for her union activities but spent only four years and four months in prison in 2010-2014 thanks to international pressure, has been a constant subject of police harassment.
When she stayed in Ho Chi Minh City to study a university course, she had been under close surveillance.
Hanh had recently returned from HCMCity to DiLinh to take care for her foldfather in Lam Dong. However, the local police maintain tight surveillanceover her activities.
Under-cover policemen have hired a room near her father's house to keep close eyes on her.
The recent aggressive moves of the Lam Dong police likely aim to force her to move out of the province.
In May, she was blocked from going to Europe to visit her mother who stays with her older sister in Austria.
Hanhis the third victim of theLam Dong police inrecentweeks. Lastweek,they also attacked former prisoner of conscience Truong Van Kim and religious activist Hua Phi.
In the morning of June 27, blogger Dinh Van Hai came to Hanh's house to support her. On the way to go home, he was beaten up and badly injured by a group of thugs. They hit him on his head, hand, and shoulder with sticks. Hai received a broken right hand and left shoulder from the assault. Mr. Hai was taken to the Di Linh district general hospital for treatment of the injuries.
——————–
Duc Trong Police Block Injured Religious Clergyman from Seeking for Medical Treatment
After sending police and thugs to beat Sub-dignitary Hua Phi, chair of Representative Committee of the Popular Bloc of Cao Dai Church and a member of the unsanctioned organizationInter-Faith Council of Vietnam, authorities in Duc Trong district had barred his family from taking him to a local hospital for treating injuries caused by the attack.
On June 22, police attacked Mr. Hua Phi in his private residence, beating him until he fell unconscious and cutting his beard. Due to the assaut, he suffered severe injuries.
One day later, as Mr. Hua Phi felt great pain, his family tried to take him to a district hospital to seek for medical treatment, the district police blocked them on the mid way.
The family was forced to secretly transfer him to a private clinic in Ho Chi Minh City. The medical check-up showed that he has spinal injury and will need surgery. He also suffered from bruised kidney and bladder.
===== June 28 =====
VietnamesePresidentSign Order to Promulgate Law on Cyber Security Despite Widespread Call for Its Repeal
Defend the Defenders: OnJune 28, Vietnam's Presidential Officeannounced President Tran Dai Quang's order to promulgate seven laws, including the Law on CyberSecuritydespite domestic and international call for its repeal.
The law, passed by the National Assembly, the country's highest legislative body, on June 12, consists of seven chapters with 43 articles and will take effect on January 1, 2019.
The law, identified as a copy of China's Law on Cyber Security, criminalizes "denying the revolution's achievements," "offending national heroes" and "providing misleading information liable to cause confusion among the population" which are vague formulations that could be applied to almost anyone posting information online that displeases the ruling Communist Party of Vietnam and its government.
The law also requires online platforms such as Google and Facebook to censor any content regarded by the Vietnamese government as "toxic" and "harmful," to store Vietnamese users' data in the country, and to hand the data over to the Vietnamese authorities on request.
In addition, tech companies are eligible to remove online postings considered as harmful for the regime.
Because of these requirements, the law is considered as a tool to silence the local dissent and violates the right to freedom of online expression by domestic public and international human rights organizations.
Two days after the Vietnamese rubber-stamped parliament approved the law, the Paris-based organization Reporters Without Borders (Reporters Sans Frontières- RSF) issue a statementto urgeVietnam's legislators to quickly repeal this draconian new law, which reinforces government control over access to information."
After the law was approved by the majority of legislators, tens of thousands of Vietnamese have signed a joint petition calling President Tran Dai Quang to freeze the law.
On June 10, tens of thousands of Vietnamese workers rallied on streets in Hanoi, Ho Chi Minh City and other cities in a mass demonstration biggest for decades to protest two bills on Special Economic Zones and Cyber Security. Police responded aggressively, detaining hundreds of them who were interrogated and most of them were tortured by police officers. Dozens are still in custody and probed for allegation of "causing public disorders," "disrupting security" and "resisting officials in duty."
===== June 29 =====
Reiterating the Call for Release of Vietnamese Human Rights Defender Mother Mushroom
 Civil Rights Defenders: On 29 June 2017, the People's Court of Khanh Hoa province sentenced Me Nam to 10 years in prison under Article 88 of the Penal Code, for "conducting propaganda against the state."
Noting the one-year anniversary of her first trial, Civil Rights Defenders reiterates its call for the immediate and unconditional release of Vietnamese blogger Nguyễn Ngọc Như Quỳnh, popularly known as Mother Mushroom.
Arrested on 10 October 2016, Mother Mushroom was held in incommunicado detention for months until her trial on June 29, 2017, only being granted access to her family hours before the one day trial. Following her appeal hearing in February 2018, her friends and family were assaulted outside the courthouse and soon after the authorities transferred her to a remote prison over 1000 kilometers from her hometown, making the journey for her elderly mother difficult and expensive. In May, she underwent a six-day hunger strike to protest her prison conditions.
Mother Mushroom now fears for her life, says her mother, facing increasing harassment in prison and threats from other prisoners. She is held in a cell with three other people. In Vietnam, some prisoners, called ang ten, are encouraged to abuse or harass other prisoners.
Mother Mushroom has been the target of politically motivated persecution in reprisal for her human rights work. She was sentenced to ten years in prison under the Vietnamese Penal Code, on the charge of conducting propaganda against the state, which is often used to punish outspoken rights defenders. Mother Mushroom is nothing more than a human rights defender who has campaigned for land and environmental rights, against police brutality, and prison conditions. Her ongoing arbitrary imprisonment and abusive treatment is a direct violation of Vietnam's obligations under international law.
Civil Rights Defenders denounced the decision of the Supreme Court of Danang, to uphold Mother Mushroom's 10-year sentence, as decided on November30, 2017.
===== June 30 =====
Vietnam's Black Sundays Report Released
Defend the Defenders: A group of Vietnamese activists has publicized a report describing how the security forces brutally persecuted local activists and ordinary citizens on June 10 and June 17.
The police assaults on June 10 aimed to disperse the mass protests of Vietnamese citizens against two bills on Special Economic Zones and Cyber Security while their brutal acts one week later targetted all people whom the security forces suspected of intending to rally to protest the government.
The report covered information on police's torture against at least 38 activists and ordinary citizens, including Trinh Toan, Nguyen Thanh Loan, Truong Thi Ha and Nguyen Ngoc Lua.
You can read the full report here.
======================