Mother Mushroom's Hunger Strike Continues in Prison for 6th Day, Her Mother Says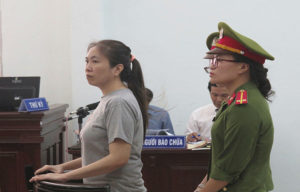 Defend the Defenders, July 12, 2018
Prominent Vietnamese human rights defender Nguyen Ngoc Nhu Quynh, dissident blogger popularly known asMother Mushroom, continues her hunger strike for the 6th day in prison although the authorities of the Prison camp No. 5 had agreed to meet one of her requests.
Mrs. Nguyen Thi Tuyet Lan, mother of the jailed activist unveiled this information after a short meeting on July 12 with Mother Mushroom who is serving her 10-year imprisonment in the Prison camp No. 5 located in Yen Dinh district, Thanh Hoa province.
During the meeting, Quynh told her mother that the prison's authorities moved her to another cell but the new cell is not private enough as her activities can be observed from outside.
Mrs. Lan said she is very worried about her daughter's health.
On July 6, Quynh telephoned from the prison to her mother saying she would stop eating prison food and the food supplied by her mother in a bid to protest the prison's inhumane treatment against her. Particularly, she said she is under threat as one of the two inmates in their shared cell is cursing her all times.
The human rights campaigner reportedly asked to meet with the prison's authorities to settle problems she is facing but the authorities had denied.
Since being transferred to the prison in February, Quynh has been under constant mental torture byprison's authorities. Sometimes she is placed in solitary confinementwithout proper ventilation and sunlight.
She conducted her first hunger strike in May to protest the prison's denialof her right to communication with her family by mails.
Weeks before conducting the second hunger strike, she stopped eating food supplied by the prison because she often got food poisoning after consuming the prison food.
Quynh, the mother of two children, was arrested on October 10, 2016 and charged with "conducting anti-state propaganda" under Article 88 of the country's 1999 Penal Code for her online postings on police brutality, country's sovereignty, environmental pollution,and other issues.
In June 2017, she was convicted and sentenced to 10 years in prison. Her conviction has met strong international and domestic condemnation.
Marking the anniversary of her first trial, June29, 2017, the NGO Vietnam VOICE launched a documentary film on Quynh titled When Mother's Awayat the Foreign Correspondent's Club Thailand (FCCT) in Bangkok on June 27. However, a second planned screening the following week was cancelled at the last minute by Thai police, acting under pressure from the Vietnamese embassy. This is at least the third such incident of Vietnamese embassy intervention of FCCT events on Vietnam in two years.
Quynh is a brave human rights defender and independent journalist. She has been honored with the 2010 Hellman/Hammett award by New York-based Human Rights Watch, the 2015 Civil Rights Defender of the Yearawardby the Stockholm-based CivilRights Defenders, the United States Department of State International Women of Courage Award in 2017,and 2018 International Press Freedom Award of the Committee to Protect Journalists (CPJ).
On July 3, CPJ issued a statement calling on Vietnam to release Quynh immediately and unconditionally.
"Vietnamese authorities must put an immediate stop to the deliberate psychological abuse of jailed Vietnamese journalist Nguyen Ngoc Nhu Quynh," said Shawn Crispin, CPJ's Southeast Asia representative. "As long as Quynh remains behind bars, the world will view Vietnam as an unconscionable abuser of basic human rights."
In late June, on the occasion to mark one year of Quynh's conviction, Civil Rights Defenders issued a statement reiterating its call for her freedom.
The living conditions in Vietnam's prisons are hard. Inmates, especially prisoners of conscience,routinelyface alack of food, hygene and medical services. In addition, prison authorities useguards and criminal inmates to terrorizeand beat jailed activists. Many activists have conducted hunger strikes to protest inhumane treatment of prisons.
Jailed activists are often sent to prison camps far from their families which meet difficulties in making prison visits and supplying them with additional food and other basic things.