Vietnam Says Facebook, Google and Youtube Remove Thousands of Posts Harmful for Ruling Communists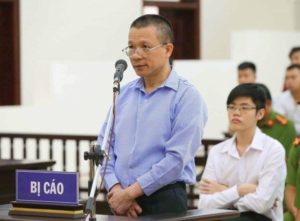 Defend the Defenders, July 12, 2018
Three foreign tech companies Facebook, Google,and Youtube have removed thousands of video clips and postings authorities claimed to beharmful for the ruling Communist Party of Vietnam, Vietnamese Minister of Information and Communication Truong Minh Tuan said earlier this week.
In the ministry's meeting in Hanoi on July 9 to review its works in the first half of 2018, the minister said the three American companies had acted upon his ministry's requests.
Particularly, Google has removed nearly 6,700 video clips out of 7,800 video clips from YouTube as of June 31, the ministry said, adding 300 of these videos were related to the environmental disaster in the central coastal region caused by the industrial waste discharge of Formosa steel plant and "extreme behaviors" of affected fishermen, Tuan said.
Six YouTube channels have beentotally blocked, he noted.
Atthe same time, Facebook has blocked nearly 1,000 links out of a proposed 5,500 allegedlyviolatingVietnameselaw, Minister Tuan said. The world's biggest social network has blocked 107 fake accounts,137 accounts which had defamed the party and its government, he said.
In addition, Facebook has blocked some links related to Formosa's tragedy and "extreme"Catholic followers in the affected central region, the minister said.
The ministry has actively worked with Facebook and Google in recent months, Tuan said. After numerous meetings, Facebook pledged to set up a specific channel to deal with Vietnam's requests on removing posts which violate Vietnameselaw, the minister said.
Meanwhile, Google has committed to obey Vietnameselaw and cooperate with the Vietnamese government in issues of cyber security, he said.
The information unveiled by Tuan, who is a deputy head of the party's Commission on Propaganda and Education has worried online activists, especially ahead of January2019 when the recently passed Cyber Security Law will become effective.
Vietnam's parliament approved the law on June 12 despite strong protest fromdomestic and international critics. The law requiresforeign tech companies to open offices in Vietnam and set up data centers in the country tohand over users' data to Vietnameseauthorities upon requests.
In addition, foreign tech companies are eligible to remove online posts which are considered "harmful" for the Vietnamese regime if the government requests.
In mid-June, in letters sent to Apple, Google, Facebook, Microsoft and Samsung, the London-based human rights group Amnesty International urged the companies to take steps to protect against potential human rights violations resulting from the law.
Human Rights Watch also criticized Vietnam's approval of the law, saying the law built by the Ministry of Public Security is notorious for human rights violations.
Currently, Vietnam is imprisoning ten bloggers and journalists for their online postings, according to the Committee to Protect Journalists. The number would rise significantly next year, local activists forecast.