BREAKING NEWS: VIETNAMESE POLICE ENTERED BLOGGER'S HOME – BEAT UP AND ARRESTED PEOPLE ILLEGALLY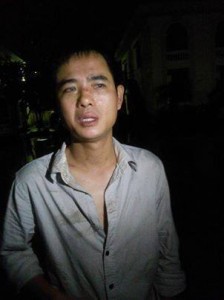 By gracebuii | CNN | Sep 26, 2013
On the evening of September 25, 2013, the police and thugs illegally entered the house of blogger Nguyen Tuong Thuy located at 11 Nha may Phan Lan Van Dien Hanoi. Blogger Nguyen Tuong Thuy was arrested with his wife and daughter, along some house guests including: 
1. Uyen Phuong Nguyen, 22 year old activist who was released on August 16, 2003.
2. Phuong Uyen Nguyen's mother, Nhung Thi Nguyen.
3. Mr. Le Quoc Quyet (the younger brother of Human Rights Attorney Le Quoc Quan who is currently in jail.)
4. Mrs. Duong Thi Tan (famous blogger Dieu Cay's ex-wife who is also currently in jail.)
5. Mr. Pham Ba Hai
Mrs. Duong Thi Tan got beaten up by the police prior to her arrest. The latest news told us that Mr. Le Quoc Quyet was also severely beaten by the police and thugs.
According to Chapter 5, Article 73 "The citizen is entitled to the inviolability of his domicile. No one can enter the domicile of another person without his consent, except in cases authorized by the law."
Chapter 5, Article 71 "No one can be arrested in the absence of a ruling by the People's Court, a ruling or sanction of the People's Office of Supervision and Control except in case of flagrant offenses. Taking a person into, or holding him in, custody must be done with full observance of the law. It is strictly forbidden to use all forms of harassment and coercion, torture, violation of his honor and dignity, against a citizen."
Chapter 5, article 72 "No one shall be regarded as guilty and be subjected to punishment before the sentence of the Court has acquired full legal effect."
According to the Vietnam Constitution, Chapter 5 articles 71, 72 and 73, the police didn't have a search warrant to enter blogger Nguyen Tuong Thuy's house. They entered illegally then violently arrested his family and dinner guests. Police brutality has long been a major issue in Vietnam, and has gone unchallenged due to government suppression. This kind of arrest is not new in Vietnam, it has been a long time problem and it is getting worse. It is clear that the Vietnamese government is failing to afford its citizens fundamental human rights. The purpose of this article is to let the people around the world know that Vietnamese government again has violated its people's human rights. As the Vietnamese government is trying to get a seat in the UN Human Rights Council, they should not be allowed and Vietnam should be re-designated on the Country of Particular Concern list.
* Source: CNN