Vietnam's human rights effort nearly zero
[themify_box style="red rounded" ]It is claimed that the government has put no effort on improving human rights though Vietnam is a member of United Nation, and has received 227 recommendations from other members in violating human rights. On the contrary, the authority is pushing the human rights level in Vietnam to Zero.[/themify_box]
VRNs | June 13, 2014 – Saigon
Since the latest Vietnam's Universal Periodic Review in Geneva, from the beginning of this year up to now, the effort on Human Rights in Vietnam is nearly zero.
On June 9th, Binh Duong Police attacked the Mennonite Protestant Church's theology training establishment. The pastor Nguyen Manh Hung said: "At 11 pm on June 9th 2014, there were roughly from  300 to 500 people including polices, night-watchmen, and gangsters coming to destroy the gate of the Mennonite Protestant Church in D10, My Phuoc, Ben Cat, Binh Duong. After getting inside the Church, the mixed group violently assaulted and beat the people residing here and searched the whole Church.
After assaulting and beating, the group arrested 29 pastors and 47 students of the Mennonite theology institute as well as some kindergarten teachers. No one knows where they arrested these people.
It is known that this search, people assault and arresting got no order from the competent authority. The harassment lasted from 11:30 pm on June 9th to 1 am on June 10th.
A certain period of time earlier, Mrs Tran Thi Nga, born in 1977 in Ha Nam, told that she had been chased with intend to kill by gangsters (actually they are polices). She said: "At around 4pm on May 25th2014, Mr Phan Van Phong carried us (my first child Tran Van Tai born on Nov 27th 2012, my second child Tran Van Phu born on March 26th 2010 and me) by motorbike from Mr Nguyen Tuong Thuy's house at 11 Quynh Lan, Vinh Quynh, Thanh Tri, Hanoi to Giap Bat coach station. When we arrived at the gate of the Mechanics Electricity Irrigation company in Km 10, 1A Street, Tứ Hiep, Thanh Tri, Hanoi, five strange young men on 2 motorbikes passed over us and beat us with iron tubes. Then they demolished our motorbike. All of us fell down. They only focused on beating me. I ran into a cars store to seek for safety as well as help. One of the five chases after me and continues beating me. Until the man sitting at the front table stood up to protect me, the gangster stopped chasing me and went away.
I ran back to the street to pick my sons. However, again the gangster with an iron tube in his hand chased me. I ran into the ground of the Mechanics Electricity Irrigation company to ask for help. There were many male workers. I took myself covered at the back of one of the workers. The gangster beat me several times before fleeing. Then the four of us waited for our friends to pick us up at the company. While I was breast feeding my son, the two gangsters chased and beat me. My son was still on my hands. I ran within the company's ground and shouted for help. They ran and beat me so many times that my son and I fell down on the ground. They continued violently beating me. My kneepan was broken. Because of stopping us from beating me, Mr Phong was beaten in his head and hand. They did not stop until I screamed because of my broken leg."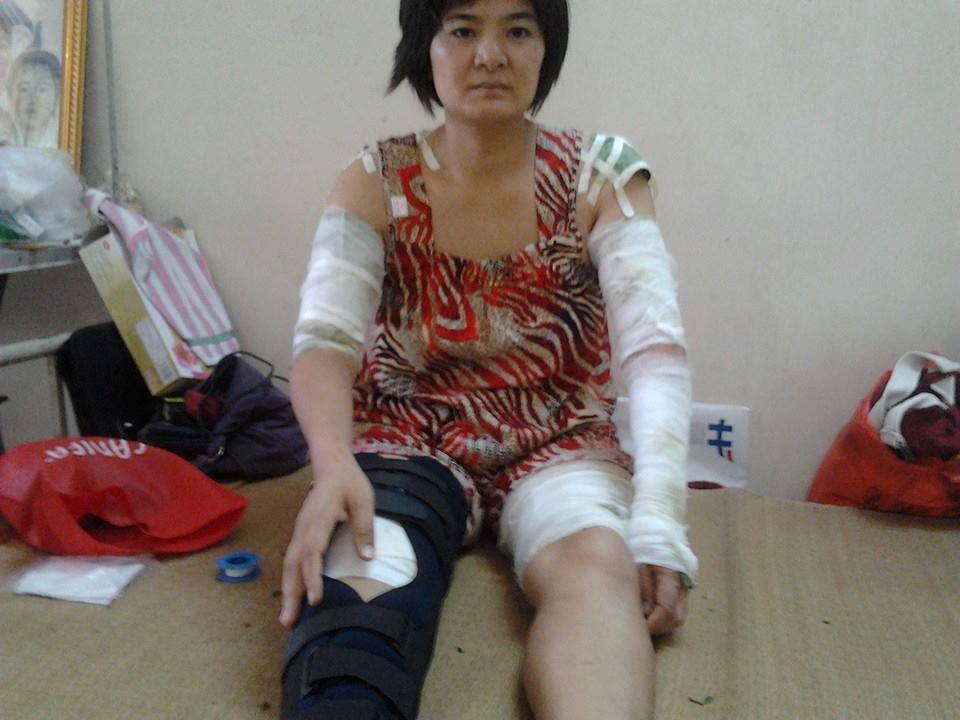 Continuously, she said: "The polices dropped threatening left lets before chasing with intending to kill us on May 25th 2014. I notified the local polices of the left lets but still we were injured severely, the Police Department ignored. Where is the Law? What is the Police Department for? Who will be next victims of the Police Department after me? The Communist Party exists, the Vietnamese people exist? Why is the current Communist authority despicable to the invasion force of China but very cruel to its people who are against the invader?
Religion Freedom is not enforceable. Human lives are not protected. It is very dangerous that the law enforcement force take gangsters' role to commit crimes in order to terrorize the people and accuse unjustly many poor people when their crimes can not be covered.
In the middle of May 2014, the riot which was claimed by workers in Binh Duong against Chinese enterprises was taken place. Actually, there was no any Chinese enterprises attacked but Japanese, Korean, and American ones. People there told that the disturbing elements are not workers. They came from other place. Polices and soldiers were also there but did nothing to prevent the violence.
After that event, on May 15th 2014, Mrs Le Thi Phuong Anh, Mr Do Nam Trung (Trung Nghia) and Mr Pham Minh Vu were arrested arbitrarily in Dongnai province.
Mr Le Anh Hung, Mrs Phuong Anh's husband, told: "At about 10:15 am, on the way to the Amata Industrial Zone, Ms Anh and Mr Nghia were intercepted by a group of 50 members consisting of both Yellow and Green police uniforms. They requested Ms Anh to delete all the photos in her mobile phone. Then they both were arrested. Earlier Ms Phuong Anh had phoned me".
There are more arbitrary citizen arresting cases in Vietnam than meals in a day. At the beginning of this year 2014, Mrs Bui Thi Minh Hang and the two others were also arrested in Lap Vo, Dong Thap. They were falsely accused of disturbing public order. However, in spite of having been arrested for approximately 6 months, they have not been in a trial.
It is claimed that the government has put no effort on improving human rights though Vietnam is a member of United Nation, and has received 227 recommendations from other members in violating human rights. On the contrary, the authority is pushing the human rights level in Vietnam to Zero.
Rep. VRNs
Source: http://www.chuacuuthe.com/2014/06/vietnamese-human-righteffort-nearly-zero/