I ALWAYS YELL "WHY YOU BEAT ME?"
[themify_box style="blue announcement rounded" ]The finale of the play is pulled up: a plain cloth man was quickly walking forward us while speaking loudly: "I'm a police here." Four attackers responded: "Police, run, run!". The false policeman took my hand firmly, lifting me up and asked there is anything to report. I looked at him and said, "Okay, thank you." A couple witnessed the whole incident also condoled when we went through[/themify_box]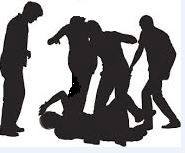 Translation by [rollinglinks]Trang Thien Long[/rollinglinks] (DTD)
About 7PM Oct 29, 2014, I and the religious activist Le Van Soc went to Duc Trong district, Lam Dong province to visit the land rights activist Duong Au, who ended his jail term of five years last month.
As soon as we entered the house, a nearly 60-year-old man walked in and introduced as the security officer of Lam Dong province.
Duong Au was absent; he was joining a funeral in the same village. His daughter drove a motorbike to call him back. Seeing me, from the gate he ran into the house; we hugged each other friendly. Duong Au was jailed in the same cell with me at K2, Z30A Xuan Loc prison nearly one year, and then he was disciplined and moved elsewhere. We inquired about each other's lives, exchanging the current situation.
Conversation occasionally was contributed few words by provincial security officer. Sometimes he also received or made phone calls. Au Duong told me that security forces have increased outside the house. Not comfortable to stay, we said goodbye my resilient friend and left for Da Lat city, 10 kilometers away.
Getting off the bus, we walked towards Dalat market just the two short streets. Two motorcycle scouts always follow nearby. Just turning to Le Dai Hanh street, we saw four youths coming. A man took his body jerked my shoulder; another man asked "To whom you visit?". Immediately one guy punched me at the nose.
I fell down on the pavement. My hands covered the head to suffer the kicks to the stomach and back. Finding unsatisfactorily, a man grabbed my jacket collar trying to raise me up while continuously kicking at hip and chest. In the beginning Le Van Soc were pushed across the street, seeing me beaten, he tried to approach to help but he was kicked into the stomach. His bag with casual clothes dropped on the ground.
The finale of the play is pulled up: a plain cloth man was quickly walking forward us while speaking loudly: "I'm a police here." Four attackers responded: "Police, run, run!". The false policeman took my hand firmly, lifting me up and asked there is anything to report. I looked at him and said, "Okay, thank you." A couple witnessed the whole incident also condoled when we went through.
During beaten, my hands kept covering head, I constantly yelled a question: "Why you beat me?".
From the incident of being attacked, the authorities actively manipulated it out as we assaulted and robbed assets of a resident in Dalat city. It's an excuse for them to arrest me and Le van Soc at Vinh airport on the next day.
Pham Ba Hai, dated Nov 01, 2014.