Vietnam – Investigate the attack on human rights defender Pham Thanh Nghien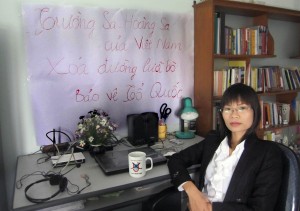 [themify_box style="blue comment rounded" ]Pham Thanh Nghien has been a vocal critic of the authorities in Vietnam, publishing several essays online and appearing frequently on radio to detail and discuss government violations of human rights. She promotes civil engagement in human rights issues, debate on territorial sovereignty, and tackling corruption.[/themify_box]
Spyghana | Jun 08, 2015
Mr. Nguyen Tan Dung
Prime Minister
Government Office
1 Hoang Hoa Tham Street
Ba Dinh District
Ha NoiViet Nam
Fax: +84 80 44130/ +84 80 44940
Email: nguoiphatngonchinhphu@chinhphu.vn
Dear Prime Minister,
I am William Nicholas Gomes, Human rights defender and Freelance journalist.
I would like to draw your attention to the following case.
On 2 June 2015, human rights defender Ms Pham Thanh Nghien was severely beaten, along with family members and members of the Network of Vietnamese Bloggers, in a police attack outside her home in Haiphong.
Pham Thanh Nghien has been a vocal critic of the authorities in Vietnam, publishing several essays online and appearing frequently on radio to detail and discuss government violations of human rights. She promotes civil engagement in human rights issues, debate on territorial sovereignty, and tackling corruption. In 2009, she was a recipient of the Human Rights Watch Hellman/Hammett Award. She is a member of the Former Vietnamese Prisoners of Conscience Association and Bloc 8406, a pro-democracy network of human rights defenders and organisations.
At midday on 2 June 2015, Pham Thanh Nghien, three of her family members, and Ms Nguyễn Tiến Nam, Ms Nguyễn Ngọc Như Quỳnh, and Ms Dương Lâm of the Network of Vietnamese Bloggers, were attacked by plainclothes police officers in front of Pham Thanh Nghien's house. The bloggers, who had travelled from Hanoi to meet Nghien and discuss advocacy plans for the nationwide 2015 Human Rights Campaign, were stopped at the gate of Nghien's house by a large group of plain-clothes police officers, and refused access to area on the pretext that the driveway was under renovation. They then followed the police request to exit the taxi in which they had arrived, and upon doing so, were surrounded by the large group of police officers. Pham Thanh Nghien, upon becoming aware of the events, left her house with her two sisters and sister in law in order to help the bloggers. She recognised members of the group of police, which was comprised of approximately 30 men, as being amongst those engaged in regular monitoring of her home. Upon reaching the group, the human rights defender was struck in the face and pushed down. Her family members were also struck in the face. The police then separated Nghien from the bloggers and her family, and continued to beat her.
Besides suffering from bruises sustained in the beating, the human rights defender experienced acute pain following attack, in connection with a previous spinal degenerative disease and scoliosis.
In January 2010, Nghien was sentenced to four years imprisonment and three years of probation after being found guilty of spreading propaganda against the state. Prior to her sentencing, the human rights defender had been held in prison for over a year, awating trial in connection to her attempts to organise a peaceful pro-democracy protest.
I express my grave concern at the violent attack on human rights defender Pham Thanh Nghien, her family and fellow bloggers, which it believes to be directly linked to her peaceful and legitimate human rights work, and expresses further concern at the use of violence in an attempt to restrict the freedom of expression within Vietnam.
I urge the authorities in Vietnam to:
1. Take all necessary measures to guarantee the physical and psychological integrity and security of Pham Thanh Nghien;
2. Carry out an immediate, thorough and impartial investigation into the attack on Pham Thanh Nghien, her family and the three members of the Network of Vietnamese Bloggers, with a view to publishing the results and bringing those responsible to justice in accordance with international standards;
3. Guarantee in all circumstances that all human rights defenders in Vietnam are able to carry out their legitimate human rights activities without fear of reprisals and free of all restrictions.
Sincerely,
William Nicholas Gomes
Human Rights Defender &  Freelance Journalist
Twitter @wnicholasgomes
Email: william@williamnicholasgomes.com
www.facebook.com/williamnicholasgomes
CC:
1. Mr. Pham Binh Minh, Minister of Foreign Affairs, Vietnam.
2.  Mr. Nguyen Thai Binh, Minister of Interior, Vietnam.
3. Mr. Ha Hung Cuong, Minister of Justice, Vietnam.
4. Mr. Tran Dai Quang, Minister of Public Security, Vietnam.
5. Mr. Vu Duc Dam, Minister, Office of the Government (OOG), Vietnam.
6. Mr.Franz Jessen, Ambassador,  Head of Delegation of the European Union to Vietnam.