Hanoi Police Detain Land Right Activist, Threatening to Place Him under House Arrest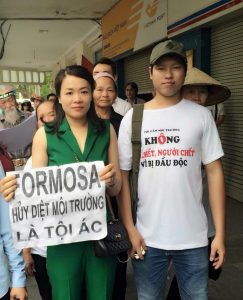 [themify_box style="blue announcement rounded"]Police officers said they planned to place Phuong under house arrest for one year and if he will not obey by their regulations, they will send him to a rehabilitation facility where the government is holding drug addicts and sex workers.[/themify_box]
By Vu Quoc Ngu, August 28, 2016
Security forces in Vietnam's capital city of Hanoi on August 26 detained local land right activist Trinh Ba Phuong, threatening to place him under house arrest in a bid to prevent him from participating in peaceful demonstrations protesting illegal land seizure by local authorities.
On Friday's morning, Mr. Phuong, an older son of detained land right activist Can Thi Theu, and dozens of land petitioners held a demonstration in Ha Dong district to demand Vietnam's government to return their illegally-seized land and release Mrs. Theu, who was arrested on June 10 and charged with "causing public disorders" under Article 245 of the country's Penal Code.
Authorities in Hanoi deployed a large number of police officers and militia to block the land petitioners from going to the city's center, forcing them to go back to the Central Citizen Reception Committee under the Government Inspectorate located in Ngo Thi Nham street in the same district. Later, security forces forcibly took Phuong to the police station of La Khe commune.
In the police station, Phuong was questioned by a number of police officer, including Major General Bach Thanh Dinh, deputy head of the Hanoi Police Department, Dung, deputy head of Ha Dong district police and Major Chu Anh Tuan from the La Khe ward police.
Police officers said they planned to place Phuong under house arrest for one year and if he will not obey by their regulations, they will send him to a rehabilitation facility where the government holds drug addicts and sex workers.
Some policemen also threatened to beat him at La Khe police station.
After interrogating him for three hours but receiving no cooperation, the Hanoi police released him afternoon.
Mr. Phuong, 31, has been detained and beaten many times by the Hanoi police recently due to his peaceful activities opposing the illegal land grabbing of Vietnam's authorities for building property and industrial projects, calling for protection of the country's environment and advocating human rights in Vietnam.
He is the older son of Mrs. Theu and Mr. Trinh Ba Khiem, two prisoners of conscience released last year after 15 months in prison for participating in peaceful demonstration against state seizure of their land.
After being released in July last year, Mrs. Theu continued to fight for returning land for Duong Noi village. She became one of the most dynamic land rights activists in Hanoi where thousands of land petitioners come from many provinces and cities to ask for their land return or market price compensation. She also participated in other gatherings on issues related to human rights national sovereignty and environment.
On June 10, Hanoi re-arrested Theu on charge of causing public disorders and if found guilty, she may face imprisonment up to seven years.
In the communist Vietnam, all land belongs to the state and citizens have only the right to use it. The state and local authorities may seize people's land for socio-economic development projects.
In many localities, authorities have grabbed land of local residents and compensated them at very low prices, which was later sold to industrial and property developers at very high prices, making thousands of people remain without houses or land for farming.
Thousands of land petitioners have gathered in Hanoi, Ho Chi Minh City and other major cities to ask the government for justice, however, their demands have been ignored. In addition, the government has ordered police forces to suppress them, beating them and occasionally deporting them to their home provinces.