Appeal Hearing for Vietnam Prominent Bloggers Set on Sept 22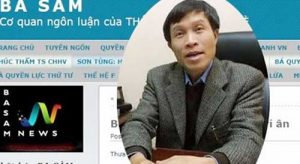 [themify_box style="blue announcement rounded"]Vinh and Thuy, arrested in May 2014,  were charged with "abusing rights to democracy and freedom to infringe upon the interests of the State" under article 258 of Vietnam's Penal Code.[/themify_box]
By Vu Quoc Ngu, September 7, 2016
Nguyen Huu Vinh (aka Anh Ba Sam), a prominent blogger in Vietnam, and his assistant Mrs. Nguyen Thi Minh Thuy will have an appeal hearing on September 22, the said his lawyer Ha Huy Son.
On September 7, lawyer Son received a notice from the Vietnam Supreme People's Court which informed him that the second hearing will be held in the Hanoi-based Supreme People's Court in Yen Hoa ward, Cau Giay district, six months after the trial against the duo on March 23, also in Hanoi.
On March 23, the People's Court of Hanoi sentenced Mr. Vinh, founder of the well-known Anh Ba Sam news website, to five years in prison and Mrs. Thuy to three years for operating the website that provides links to social, political, economic, environmental, and cultural issues in Vietnam.
Vinh and Thuy, arrested in May 2014, were charged with "abusing rights to democracy and freedom to infringe upon the interests of the State" under article 258 of Vietnam's Penal Code.
The trial was supposed to be open and thousands of activists coming from different parts of the country tried to attend the trial. However, they were kept far away from the courtroom. A number of them were detained and released after the trial ended.
Some foreign diplomats were allowed to watch the trial in another room via a video feed but there was no sound for most of the time. German lawmaker Martin Patzelt came to the Southeast Asian nation to attend the trial, however, he was also not permitted to enter the courtroom but stayed in a street near the court's building.
Pham Doan Trang, the co-author of one of the articles cited in the indictment, sought to attend the trial as a concerned witness, but police detained her in the morning of the trial and only released her after the verdict was issued.
Vinh, a former police officer and member of the ruling communist party, started the blog Anh Ba Sam in 2007, publishing articles and commentaries on Vietnamese political, social, economic, and cultural issues.
Since his arrest in 2014, many democratic governments and international human rights organizations have urged Vietnam's government to release him unconditionally and immediately, saying the use of criminal provisions by Vietnamese authorities to penalize individuals who peacefully exercise their right to freedom of expression is disturbing.
After the trial this year, the U.S. Embassy in Vietnam issued a statement saying Washington is deeply concerned by the Vietnamese government's conviction and sentencing of the bloggers. These convictions appear to be inconsistent with the right to freedom of expression and freedom of the press provided for in Vietnam's 2013 Constitution, and with Vietnam's obligations under the International Covenant on Civil and Political Rights and other international commitments.
Vietnamese communists have ruled the country for decades and have no plan to conduct political reforms toward multi-party democracy. Their government has used many controversial articles such as 79, 88, 245 and 258 in the Penal Code to silence local political dissidents, social activists and human rights defenders.
At least 14 activists have been sentenced to prison this year, including eight in March.
According to the New York-based Human Rights Watch, Vietnam is holding at least 130 prisoners of conscience. Hanoi always insists that only law violaters are imprisoned and denies imprisoning any prisoner of conscience.