Vietnam Sentences Land Right Activist to 20 Months in Prison in Unfair Trial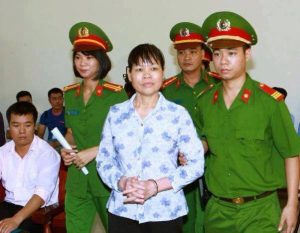 [themify_box style="blue comment rounded"]The trial, which failed to meet international standards for fair trial according to the defendant's lawyers, was carried out in maximum security as authorities in Hanoi deployed hundreds of police officers and militia to the areas near the courtroom.[/themify_box]
By Vu Quoc Ngu, September 20, 2016
On September 20, the People's Court of Dong Da district in Vietnam's capital city of Hanoi sentenced land rights activist Can Thi Theu to 20 months in prison on charges of causing public disorders under Article 245 of the Penal Code.
The trial, which failed to meet international standards for fair trial according to the defendant's lawyers, was carried out in maximum security as authorities in Hanoi deployed hundreds of police officers and militia to the areas near the courtroom.
Many activists, land petitioners and relatives of Mrs. Theu, including her two sons Trinh Ba Phuong and Trinh Ba Tu, were barred from entering the courtroom. Police also detained around 50 of them to Ha Dong district about 15 kilometers from the court. Many of them, including Mr. Tu and Mr. Phung The Dung (fb nickname Dung The Phung) were severely beaten by police officers and plainclothes agents in police station.
This is the second sentence for the 54-year-old land right activist and human rights defender. In April 2014, she and her husband Trinh Ba Khiem were arrested while filming the land seizure conducted by Hanoi's authorities and in September 2014, the couple was convicted of resisting on-duty state officials under Article 257 of the Penal Code. She was was sentenced to 15 months in prison and her husband to 18 months which was reduced to 14 months later.
After being released last year, Mrs. Theu has continued to advocate on land and environmental issues. She participated in protests calling for the release of prominent rights lawyer Nguyen Van Dai and his assistant Le Thu Ha, urging the government to repeal Article 88 of the Penal Code, which criminalizes peaceful criticism. She joined protests against police violence and carried out a hunger strike in support of political prisoner Tran Huynh Duy Thuc.
Theu also participated in peaceful demonstrations on environmental issues, particularly against the Taiwanese Formosa steel plant in Vietnam's central province of Ha Tinh which illegally discharged a huge volume of toxic industrial waste causing environmental catastrophe in the central coastal region which killed hundreds of tons of fish in April-May.
She is among the 82 prisoners of conscience whom Amnesty International has called on Vietnam's government to release unconditionally and immediately.
Theu is the 18th activist being sentenced so far this year, according to the Defend the Defenders' statistics.
Response to Theu's second imprisonment, Phil Robertson, Deputy Director, Asia Division of Human Rights Watch said "People like Can Thi Theu don't originally choose to become land rights activists, but when they are facing loss of land and livelihood, there is no choice. If there were any justice in Vietnam, Thi Theu would be working on her farm in peace, instead of heading to prison after an unjust trial."
"Can Thi Theu is yet another victim of Vietnam's kangaroo courts, where guilt and prison sentences are determined by the ruling communist party, and there is no respect for fair trial standards or justice. The real measure of the Vietnam government's dictatorial practices in its systematic denial of the right of peaceful protest. This 20 month sentence is an affront to Vietnam's international obligations to respect human rights, including the freedom of expression and peaceful public assembly," Mr. Robertson said.
"Conflicts between farmers and the government over land confiscation have become a serious problem in Vietnam in the last few years," said Brad Adams, Asia director at Human Rights Watch. "The government should reform its land law and compensation system instead of punishing people who protest the loss of their land."
"When the Communist Party of Vietnam needed farmers' support, it advocated that farmers must have land," said Adams. "But now it puts those who make the same point in prison."
On the same day, the Dublin-based Front Line Defenders issued a statement strongly condemning the sentencing of Mrs. Theu as it is solely related to her peaceful and legitimate work for the promotion and protection of land rights in Vietnam.
The London-based Amnesty International on Sept 20 issued a public statement calling on Vietnam to "quash the ruling and to cease their continuing intimidation and harassment of human rights defenders and activists. The authorities should immediately end the misuse of the legal and criminal justice system to prevent the effective enjoyment of the rights to freedom of expression and peaceful assembly in the country."