Three Vietnamese Activists Still in Detention after Mass Arrest Last Sunday, All Detainees Tortured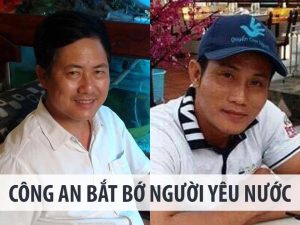 [themify_box style="blue announcement rounded"]On November 6, security forces in Vietnam's biggest economic hub detained at least seven activists namely Luu Van Vinh, Nguyen Van Duc Do, Do Phi Truong (Mac Van Phi), Tuan Doan and three guys with short names Tuan, Hung and Hoan (or Hoan Thanh Dia).[/themify_box]
By Defend the Defenders, November 12, 2016
Police in Ho Chi Minh City are still holding three local activists after the mass arrest last Sunday, human rights defenders have said.
On November 6, security forces in Vietnam's biggest economic hub detained at least seven activists namely Luu Van Vinh, Nguyen Van Duc Do, Do Phi Truong (Mac Van Phi), Tuan Doan and three guys with short names Tuan, Hung and Hoan (or Hoan Thanh Dia).
So far, Do Phi Truong, Tuan Doan, Tuan and Hung were released while Luu Van Vinh, Nguyen Van Duc Do and Hoan are still held in the Phan Dang Luu detention facility which is known for holding political prisoners.
The detainees have been tortured during interrogation, HCMC-based activist Hoang Dung said his sources informed him. Do Phi Truong, who was arrested after visiting Vinh before lunch on Sunday, and other released detainees also confirmed that they were tortured during the three-day detention and were not supplied with food.
Mr. Vinh, who founded the Coalition for Self-determined Vietnamese People in mid July, and his friend were beaten and arrested when they were taking a lunch at Vinh's private residence in HCMC, said Le Thi Thap, his wife who was also at home on that day.
Mrs. Thap said the police did not show an arrest warrant during the arrest. They just announced that he was arrested and charged with "carrying out activities aimed at overthrowing the people's administration" under Article 79 of the Penal Code.
Until now, the Department of Public Security in HCMC has not confirmed the arrests while the state media has not publicized news on these detentions as it did in other previous political arrests.
The arrests were said to be linked to the Coalition for Self-determined Vietnamese People. Mr. Vinh was the president of the newly-established organization which aims to end the communists' political monopoly. All major issues of the country should be decided by the people via referendums, according to its founding statement.
However, Vinh was reported to have left the coalition and was planning to set up another organization to fight for multi-party democracy and enhance human rights in the nation.
Vinh, 49, participated in many peaceful demonstrations in Hanoi and HCMC to protest China's violations of Vietnam's sovereignty in the East Sea (South China Sea) and Formosa's discharge of huge amount of toxic industrial waste into sea waters in the central province of Ha Tinh which caused massive death of fisheries in four central coastal provinces.
He had been detained many times, including the three-day arrest in May after taking part in a peaceful demonstration on environmental issue.
The arrests of Vinh and other group members is part of Vietnam's intensifying crackdown against local dissidents, social activists and human rights defenders amid increasing public awareness about the country's socio-economic problems, including systemic corruption and widespread environmental pollution.
On October 10, Vietnam arrested prominent blogger and human rights activist Nguyen Ngoc Nhu Quynh and three weeks later, it arrested well-known blogger Ho Hai. The two bloggers were accused of conducting anti-state propaganda under Article 88.
Vietnam has imprisoned around twenty activists and detained nearly ten others so far this year. In addition, hundreds of activists have been brutally tortured by police officers and assaulted by plainclothes agents.
Vietnamese communists have ruled the country for decades and strive to hold the country under a one-party regime. The security forces have been requested to prevent the establishment of opposition parties.