Police in HCM City Beat Son, Detain Daughter-in-law of Arrested Political Dissident Le Dinh Luong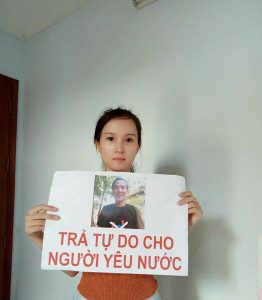 By Defend the Defenders, July 29, 2017
On July 28, security forces in Ho Chi Minh City beat Le Dinh Hieu, a son of political Le Dinh Luong who was arrested several days ago, and kidnapped his wife Nguyen Thi Xoan and held her for five hours in police custody; the victims told Defend the Defenders.
When the couple Hieu and Xoan and their 18-month daughter were on their way from the kindergarten to their home in the city in the evening of Friday, a group of plainclothes agents stopped them and kidnapped the wife.
They took the wife to a police station in Ward 8, Go Vap district and interrogated her for voicing to demand for immediate and unconditional release of her father-in-law, who was also kidnapped by security forces in the central province of Nghe An on July 24 and later was charged with "Carrying out activities aimed at overthrowing the people's administration" under Article 79 of the 1999 Penal Code.
Xoan refused to commit any wrongdoings during the interrogation. Police forcedly took her finger prints despite her strong resistance.
When Hieu with their baby came to the police facility to demand for meeting with his wife, he was beaten by six plainclothes officers who also robbed his cell phone. The baby was also beaten, falling in loud cry. Due to the attacks, Hieu sustained severe injuries in his head, arms and back.
Xoan asked police officers to permit her to feed her baby, however, they rejected.
Being informed about the illegal acts of the local police, many activists in HCM City gathered in the front of the police building to demand for Xoan's release. At around 11 PM, Xoan was released. She said she was not supplied food and drink during the detention and police did not allow her to meet with her baby which is still in breastfeeding period.
After the detention of her father-in-law four days earlier, Xoan has actively voiced for his release, condemning the communist government for arbitrary arrest.
Meanwhile, on July 26, two days after kidnapping Mr. Luong, Nghe An police officially charged him with subversion under Article 79 of the Penal Code. Luong, 52, is facing long-term imprisonment of between twelve and twenty years of imprisonment, life imprisonment or capital punishment if is convicted, according to the Vietnamese current law.
State media reported that Mr. Luong is an extremely dangerous element belonging to the U.S.-based Viet Tan (Vietnam Reform Party) which is labeled by Vietnamese authorities as a terrorist organization.
According to the Nghe An police, Mr. Luong once called for boycotting the elections of the parliament and local People's Councils while capitalizing on the environmental disasters caused by Formosa to cause social disorders and instigate demonstrations.
Luong is an army veteran who joined the battle against Chinese invaders in Vietnam's northernmost region in 1980s.
The arrest of Luong is part of Vietnam's intensified crackdown against local political dissidents, human rights advocates, social activists and online bloggers.
In late June, Vietnam sentenced prominent human rights defender Nguyen Ngoc Nhu Quynh to ten years in jail and today, it will try Tran Thi Nga, another human rights advocate. Both are charged with "conducting anti-state propaganda" under Article of Penal Code.
More than 100 Vietnamese activities are imprisoned in the country, according to international human rights organizations such as Amnesty International and Human Rights Watch.
Prominent human rights attorney Nguyen Van Dai and his assistant Le Thu Ha, medical doctor Ho Hai were arrested in late 2015 without being taken to court on allegation of "conducting anti-state propaganda" under Article 88 of the Penal Code. Others arrested with the same charges are Nguyen Van Hoa, Nguyen Van Oai and Tran Hoang Phuc while Luu Van Vinh and his friends were arrested last year and charged with subversion per Article 79.