Vietnam Continues Crackdown against Brotherhood for Democracy, Arresting Its Spokesman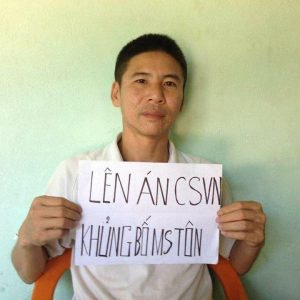 By Defend the Defenders, August 4, 2017
Vietnam has continued its crackdown against Brotherhood for Democracy, arresting its Spokesman Nguyen Trung Truc after a mass detention on July 30.
On August 4, security forces detained Mr. Truc at his home in the central province of Quang Binh and charged him with "Carrying out activities aimed at overthrowing the people's administration" under Article 79 of Vietnam's 1999 Penal Code.
Police also conducted search in his private house and took away his computers, cell phones and other personal items.
Mr. Truc is a former prisoner of conscience. After being released, he continues his activities which aim to promote human rights and democracy in Vietnam.
Due to his activism, he has been targeted by Vietnam's security forces. In early July last year, he and other seven activists from Quang Binh went to Nghe An to attend a wedding party of Nguyen Hai, another member of Brotherhood for Democracy. However, the group was kidnapped by plainclothes agents who took them to a remote area where they beat and robbed all their belongings including wallets and cellphones before leaving.
The arrest of Mr. Truc is part of Vietnam's intensifying persecution against Brotherhood for Democracy which is considered by the ruling communist party as a potential threat for its political monopoly in the Southeast Asian nation.
On July 30, the Ministry of Public Security arrested four former political prisoners Pham Van Troi, Nguyen Trung Ton, Truong Minh Duc and Nguyen Bac Truyen, co-founders of Brotherhood for Democracy together with prominent human rights lawyer Nguyen Van Dai, who was arrested on December 16, 2016.
The five-newly arrested activists and Mr. Dai and his assistant Ms. Le Thu Ha are charged with subversion under Article 79 of the Penal Code. In 2015, Mr. Dai and Ms. Ha were charged with "conducting anti-state propaganda" under Article 88 of the Penal Code.
With the new charges, the seven activists are facing imprisonment of between twelve and twenty years of imprisonment, life imprisonment or capital punishment if are convicted, according to the country's current law.
Mr. Ton is currently the president of Brotherhood for Democracy while Mr. Troi is its former leader. Mr. Truyen was said to leave the organization and became leader of Vietnamese Political & Religious Prisoners Friendship Association.
Mr. Duc, 57, is the current vice president of Viet Labor Movement which fights for rights of workers in the Southeast Asian nation.
The arrests and allegations are part of Vietnam's intensifying crackdown against local political dissidents, human rights advocates, social activists and independent bloggers amid increasing social dissatisfaction on systemic corruption, economic mismanagement, heavy environmental pollution and other problems that the Southeast Asian nation is facing.
On July 26, police in the central province of Nghe An arrested Le Dinh Luong and charged him with "Carrying out activities aimed at overthrowing the people's administration" under Article 79 of the Penal Code.
Within one month from June 29, Vietnam sentenced two human rights defenders Nguyen Ngoc Nhu Quynh and Tran Thi Nga to nine and ten years in jail, respectively on charges of "conducting anti-state propaganda" under Article 88 of the Penal Code.
Dozens of activists have been arrested and many of them sentenced to heavy imprisonments since the beginning of 2016 when the ruling communist party held its National Congress to elect the new leadership for the 2016-2020 period, with many police generals being selected to key positions of the party and state apparatuses.
The communist government has strived to keep the country under a one-party regime and make all effort to prevent the formation of opposition party.
The UN High Commissioner on Human Rights, foreign governments and international human rights organizations have called on Vietnam to remove Articles 79, 87, 88 and 258 of the Penal Code which have been used by the communist government to silence local activists, urging Vietnam to respect its international human rights commitments.
It is worth to note that Vietnam is a signatory state of the International Covenant on Civil and Political Rights (ICCPR). The rights of peaceful expression, assembly and association are enshrined in the country's 2013 Constitution.
Vietnam is imprisoning around 100 activists, according to Human Rights Watch and Amnesty International while Hanoi always denies of holding any prisoners of conscience but only law violators.