Nghe An Police Beat 15 Relatives of Imprisoned Political Dissident Le Dinh Luong, Assaulting further Six of Them during Nine-hour Detention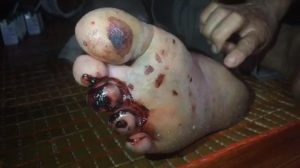 By Defend the Defenders, August 19, 2017
On August 18, police in Vietnam's central province of Nghe An brutally beat 15 relatives of imprisoned political dissident Le Dinh Luong, detaining six of them and torturing them for hours before releasing them in mid-night of Friday, Mrs. Nguyen Thi Xoan, a daughter-in-law of Mr. Luong, told Defend the Defenders.
Mrs. Xoan said on Friday, a group of 15 people from her family and relatives went to the Nghe An province's Department of Public Security to request for meeting Mr. Luong and provide him with some supplements. The family wants to know his health conditions as someone claimed that he was beaten upon detention on July 24.
Police invited the group into a room and forced them to wait for hours. Later, instead of answering questions, authorities accused the group of causing public disorders and deployed 200 policemen to beat the group which included elder people and pregnant females, Xoan said.
Later, police detained Mrs. Xoan and her husband Le Dinh Hieu, activists Tran Thi To, Ho Van Luc, and Le Van Nhan and took them to different rooms where they continued to beat them.
Mr. Nhan suffered most, receiving severe injuries in his right leg. Mrs. Xoan, who has a baby, was also attacked by police officers in plainclothes while Mrs. To was beaten and stripped off all clothes.
At 11 PM of the same day, police forced the detainees to sign in letters which they have to say that they were not beaten by police. Xoan said police would kill them if they refuse to sign the untrue letters prepared by police.
This was the second police assault against Mr. Hieu after his father's arrest on July 24. On July 28, Xoan and Hieu were detained by police in Ho Chi Minh City for hours and Hieu was brutally beaten by police before being released in mid-night (you can read the case here: http://www.vietnamhumanrightsdefenders.net/2017/07/29/police-in-hcm-city-beat-son-detain-daughter-in-law-of-arrested-political-dissident-le-dinh-luong/).
Mr. Luong, a veteran in the war against China's invasion of Vietnam's northern region in 1980s, was kidnapped on July 24 by Nghe An province's police. Later, police announced that he is detained for probing on charge of "Carrying out activities aimed at overthrowing the people's administration" under Article 79 of the 1999 Penal Code.
Luong, 52, is facing long-term imprisonment of between twelve and twenty years of imprisonment, life imprisonment or capital punishment if is convicted, according to the Vietnamese current law.
State media reported that Mr. Luong is an extremely dangerous element belonging to the U.S.-based Viet Tan (Vietnam Reform Party) which is labeled by Vietnamese authorities as a terrorist organization.
According to the Nghe An police, Mr. Luong once called for boycotting the elections of the parliament and local People's Councils while capitalizing on the environmental disasters caused by Formosa to cause social disorders and instigate demonstrations.
Luong is an army veteran who joined the battle against Chinese invaders in Vietnam's northernmost region in 1980s.
The arrest of Luong is part of Vietnam's intensified crackdown against local political dissidents, human rights advocates, social activists and online bloggers.
In late June, Vietnam sentenced prominent human rights defender Nguyen Ngoc Nhu Quynh to ten years in jail and today, it will try Tran Thi Nga, another human rights advocate. Both are charged with "conducting anti-state propaganda" under Article of Penal Code.
One week after Luong's arrest, Vietnam's security force arrested five other activists namely Nguyen Trung Ton, Nguyen Bac Truyen, Pham Van Troi, Truong Minh Duc and Nguyen Trung Truc, accusing them, together with imprisoned human rights lawyer Nguyen Van Dai and his assistant Le Thu Ha, of subversion under Article 79. Mr. Dai and Ms. Ha were detained on December 16, 2015 and charged with "conducting anti-state propaganda" under Article 88 of the Penal Code. Six of them are member of Brotherhood for Democracy while Mr. Truyen, one of the movement's co-founders, left it long time ago.
More than 100 Vietnamese activities are imprisoned in the country, according to international human rights organizations such as Amnesty International and Human Rights Watch. The list includes medical doctor Ho Hai. Nguyen Van Hoa, Nguyen Van Oai, and Tran Hoang Phuc who were charged with "conducting anti-state propaganda" under Article 88 while Luu Van Vinh and his friends were arrested last year and charged with subversion per Article 79.