Citizen Journalist Nguyen Van Hoa Sentenced to Seven Years in Prison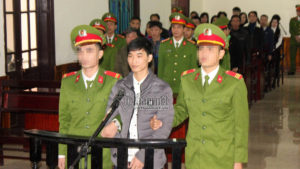 By Defend the Defenders, November 27, 2017
On November 27, the People's Court in Vietnam's central province of Ha Tinh found citizen journalist Nguyen Van Hoa guilty of "conducting anti-State propaganda," sentencing him to seven years in prison and three years under house arrest afterward, state media reported Monday.
The trial was carried out unexpectedly and unknown for the public after more than ten months of pre-trial detention. No relatives and friends of the defendant nor lawyers were allowed to get access to the so-called open trial.
Mr Hoa, 22, was arrested on January 11 on allegation of "abusing democratic freedoms to infringe upon the interests of the State and the rights and legitimate interests of organizations and citizens" under Article 258 of the country's 1999 Penal Code.
Later, authorities in Ha Tinh changed the charge to "conducting anti-state propaganda" under Article 88 of the Penal Code.
According to the indictment, Hoa established a Facebook account Nguyen Van Hoa (or Maria Luygonjaga) in 2013 to disseminate many videos and pictures "defaming the state and officials" and going against the policies of the ruling communist party and its government.
His works had triggered other peoples who gathered to protest the Taiwanese Formosa steel plant for causing the environmental disaster in the central coastal region last year, and criticize the government's poor response to natural disasters occurred in the region in 2016, the court said.
Between 2014 and January 2015, Hoa used Facebook account "Luoishoa" to disseminate anti-state documents which cause social satisfaction, the jury said.
Hoa was said to produce some documents and get other materials from other "reactionary individuals" to post on social networks with penname "Con kien con" or "Little ant" or send to foreign media.
The procuracy said Hoa got financial aids of total VND92.1 million ($4,000) and $5,264 from foreign and domestic reactionary individuals and groups.
According to the state media, during the trial, Hoa, who was the first blogger to use flycam to report peaceful demonstrations of Ha Tinh residents against Formosa, admitted his wrongdoings and beg for mercy.
Hoa was said to reject to have own lawyer whom his family had hired to defend him.
Many international human rights organizations including Amnesty International and Reporters Without Borders have called for his immediate and unconditional release, saying he did nothing wrong but exercised his basic rights of freedom of press.
The arrest and the conviction of Hoa is part of Vietnam's ongoing crackdown on local dissidents, human rights defenders, social activists and online bloggers.
The trial was carried out four days before the EU-Vietnam Annual Human Rights Dialogue, the important event for Vietnam's development given the fact that Hanoi is urging the 28-nation bloc to ratify the Free Trade Agreement while the bloc is still concerned about human rights violations in the Southeast Asian nation.
Along with arresting more than 20 activists and charging them with serious accusations in the national security provision in the Penal Code so far this year, Vietnam has imprisoned human rights advocate Nguyen Ngoc Nhu Quynh, land rights activist Tran Thi Nga, blogger Nguyen Van Oai, and Nguyen Van Hoa.
Quynh was sentenced to ten years in prison and will go to appeal hearing on November 30 while Nga was given nine years in prison and five years under house arrest. Both were accused of "conducting anti-state propaganda" under Article 88.
Mr. Oai was sentenced to five years in prison and four years under house arrest.