Jailed Citizen Journalist Nguyen Van Hoa Transferred to Quang Nam, around 500 Km away from His Native Ha Tinh Province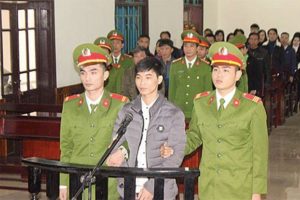 Defend the Defenders, February 24, 2018
Young citizen journalist Nguyen Van Hoa, who was sentenced to seven years in prison and three years under house arrest on allegation of "conducting anti-state propaganda" under Article 88 of the country's 1999 Penal Code, has been transferred to An Diem prison located in Dai Loc district of the central province of Quang Nam.
The transfer was made three months after his trial in which the People's Court of Ha Tinh province found him guilty of using a Facebook account Nguyen Van Hoa (or Maria Luygonjaga) from 2013 until his arrest on January 11, 2017 to disseminate many videos and pictures "defaming the state and officials" and going against the policies of the ruling communist party and its government.
The move indicated that Hoa, 22, has no plan to appeal the court's decision although rights activists said his trial failed to meet international standards for fair trial. Hoa, who was the first blogger to use flycam to report peaceful demonstrations of Ha Tinh residents against Formosa, reportedly admitted his wrongdoings and beg for mercy.
An Diem prison, about 500 km from Hoa's native province of Ha Tinh, is the facility of the Ministry of Public Security holding many prisoners of conscience. Human rights lawyer Le Quoc Quan, who was convicted of tax evasion and sentenced to 30 months in prison, spent many months here.
It is a common practice in Vietnam that prisoners of conscience have been sent to facilities far from their families, making difficulties for them to visit the detainees. In addition, prisons' authorities have also impose inhumane methods of treatment against them in order to force them to make confessions and admit "wrongdoings." The methods include placing in solitary cells, using criminal inmates to torture, and denying of basic services of food, hygiene and medical care.
Earlier this month, Vietnam's authorities also transfered imprisoned blogger and prominent human rights activist Nguyen Ngoc Nhu Quynh to the central province of Thanh Hoa, around 1,200 km from her native Khanh Hoa province.
Hoa is among activists and bloggers arrested and convicted because of their activities challenging the Taiwanese Formosa steel plant in Ha Tinh which discharged a huge amount of industrial waste into the country's central water led to the environmental disaster in April 2016 in which hundreds of tons of fish was killed.
In June 2017-February 2018, Vietnam convicted Nguyen Ngoc Nhu Quynh, Tran Thuy Nga, Hoang Duc Binh and Nguyen Nam Phong, sentencing them to between three and 14 years in prison.
Meanwhile, on February 23, the UN rights experts called on Vietnam's government to free Nguyen Van Hoa, Nguyen Ngoc Nhu Quynh, Hoang Duc Binh and Nguyen Nam Phong, who were jailed for writing about and reacting to the Formosa's discharge of toxic chemicals.
In a statement posted on the website of the UN Human Rights' Office of The High Commissioner, Special Rapporteur for Human Rights and Hazardous Substances and Wastes Baskut Tuncak said "Imprisoning bloggers and activists for their legitimate work raising public awareness on environmental and public health concerns is unacceptable."
"We call on the authorities to release Hoang Duc Binh and Nguyen Nam Phong who were detained following their efforts to raise awareness and ensure accountability in relation to the spill of the Formosa Steel plant. Authorities must ensure that Viet Nam's rapid economic expansion does not come at the expense of human rights, in particular those of local communities and workers," said Mr. Tuncak.
David Kaye, UN Special Rapporteur on freedom of expression, said he was deeply concerned by the increasing number of arrests and the detention of rights activists and journalists covering issues of public relevance in Vietnam.
"These convictions not only violate the rights to freedom of expression of these individuals but also undermine the rights of everyone in Vietnam to receive vital information on toxic pollution and to debate the best remedy for it and ultimately to hold those responsible for the disaster accountable," said Kaye.
It is worth to note that the environmental catastrope caused by Formosa's illegal discharge of cyanide, phenol, and other toxic waste has been the biggest environmental disaster in Vietnam so far. The incident reportedly polluted more than 200 km of Vietnam's central coast, killing a large number of fish and affecting tens of thousands of fishermen and others whose lives are dependent on sea. The spill sparked numerous protests demanding accountability for the damage caused.