Prisoner of Conscience Tran Anh Kim Suffers Serious Diseases while Serving 13-year Imprisonment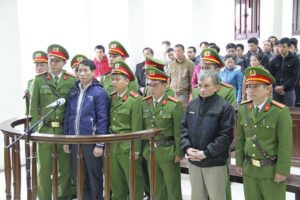 Defend the Defenders, May 5, 2018
Vietnamese prisoner of conscience Tran Anh Kim, who is serving his 13-year prison sentence on alleged subversion, is suffering a number of serious diseases, including prostate glandinflammation, according to his wife Nguyen Thi Thom.
After being sentenced to 13 years in prison and four years under house arrest in 2016, Mr. Kim, 69, was sent to Prison camp No. 5 in the central province of Thanh Hoa, about 300 km from his native province of Thai Binh.
Due to inhumane treatment in prison, his prostate glandinflammation became serious. He reportedly feels great pain in his head as a result of injuries he suffered as a soldier participating in the war against China's invasion of Vietnam's northernmost provinces in 1979.
Mrs. Thom said several months ago, he was transferred to Thanh Hoa province's General Hospital for treating prostate glandinflammation and stayed there for over 20 days. She was allowed to provide him care under close watch of police.
However, his health conditions have not improved much due to improper treatment, she said, adding he may not survive to complete his lengthy imprisonment.
Mr. Kim, former lieutenant colonel of the Vietnam People's Army, has difficult in taking food since he lost most of his teeth. He wants to implant teeth but lacks of financial resources as well as permission from the prison's authorities.
Mr. Kim has been imprisoned twice before. He was sacked from his post of deputy head of the military political department of Thai Binh city after being accused of mismanagement. He claimed innocence and unfairly treated. His appeals sent to all state agencies, including the government and the president remained unanswered, and later he was sentenced to two years in prison.
After being released, he devoted himself to multi-party democracy. From 1995-2005, he participated in a number of groups which promoted multi-party democracy, including the 8406 Bloc. He assisted farmers whose land had been illegally seized by local authorities to seek justice and participated in anti-corruption campaigns.
He was arrested for the second time in July 2009 and charged with attempting to "overthrow the people's government" under Article 79 of the 1999 Penal Code. He was later sentenced to five-and-a-half years in jail and released in July 2015.
He was re-arrested in September 2015 on suspicion of subversion. The People's Court of Thai Binh sentenced him to 13 years in prison and four years under house arrest. His fellow Le Thanh Tung was given 12 years in jail and three years of probation. According to the indictment, Mr. Kim had the intention to establish an organization called "People Forces for Democracy Promotion" with the participation of army officers to overthrow the current regime and replace it with a democratic government. The two activists planned to publicize their organization on September 21, 2015, but Vietnam's security forces arrested Mr. Kim a few days before the organization's debut.
Mr. Kim was honored with the Hellman/Hammett Prize awarded by the New York-based organization Human Rights Watch in 2009.
Both Kim and Tung are among 82 prisoners of conscience whom the London-based Amnesty International has urged Vietnam to free unconditionally and immediately.
The US Embassy in Vietnam also condemned the conviction of Mr. Kim and Mr. Tung, saying the two activists were imprisoned just because of exercisng their basic rights of expression and assembly enshrined in the country's 2013 Constitution.
In addition to inhumane treatment of Mr. Kim in custody, security forces in Thai Binh have been isolating his family, not allowing the family's members to contact with other activists. A number of activists have been beaten, detained and questioned by the local police when they visited Mr. Kim's family, Mr. Nguyen Tuong Thuy, vice president of the unsanctioned Independent Journalists Association of Vietnam (IJAVN), talked to Defend the Defenders. Mr. Thuy and other activists were once beaten by Thai Binh police when they visited Kim's family in 2016.
For more information about Mr. Tran Anh Kim, please go to our archive: http://www.vietnamhumanrightsdefenders.net/defenders-weekly/?post=tran-anh-kim