Vietnam Security Forces Continue Crackdown on Protestors, Bloody Clash Expected in Central Province of Binh Thuan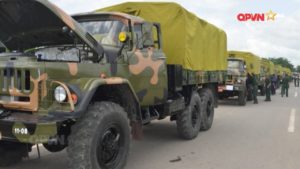 Defend the Defenders, June 10, 2018
Vietnam's security forces are continuing their crackdown on local demonstrators in Hanoi, Ho Chi Minh City and other localities, citizen journalists have reported.
Police are patroling streets in HCM City and time to time detain groups of protestors who are still blocked by security forces and militia in some corners in the city.
In Hanoi, police detained female activist Nguyen Thuy Hanh and seven others when they sit in a local cafeteria after a rally with motorbikes. Police took them to Trung Tu ward's police station where they were interrogated. Mrs. Hanh informed other activists outside that she was beaten by police officers. Other activists are gathering there to demand for their release.
Online citizens have reported that people in the central province of Ninh Thuan rallied on the Phan Thiet town's streets in the morning. After the local police violently suppressed their gathering, the peaceful demonstration turned into a violent one as people attacked police with whatever they found on streets, and occupied the building of the provincial government. In addition, protestors also blocked the National Road No. 1.
It was said that Vietnam's government requested the army and police to send special units to Binh Thuan to suppress the uprising. Bloody clash between the local residents and police and army is expected in coming hours. Internet in the region was reportedly cut.
Observers said citizens in Binh Thuan have been under pressure for long time due to two China-invested thermal power plants which cause great air pollution while fishermen have been assaulted by China's authorities while fishing in Vietnam's waters in the East Sea (South China Sea).
The mass protest started yesterday with the participation of around 50 thousands of workers in Tan Tao Industrial Zone in HCM City on Saturday (June 9).
On Sunday, tens of thousands of Vietnamese rallied in Hanoi, Ho Chi Minh City, Danang, Nha Trang and other locations.
In these peacefeul demonstrations, participants used banners "No land lease for China " or "Stop Voting on Bill on Cyber Security."
Vietnam's security forces across the nation have tightened control over the week. Authorities in localities have sent police and militia to station near private residences of local activists since June 9, effectively placing them under house arrest in a bid to prevent them from joining protests. Many activists reported that they left their house during the week to avoid being locked by security forces.
During the day, Vietnam's authorities used heavily-armed police, under-covered policemen and militia to violently disperse protestors. Hundreds of protestors have been arrested, dozens of others have been beaten by security forces.
The demonstrations were planned days in advance in response to the plan of the country's highest legislative body National Assembly to pass the two bills next week during its one-month meeting started on May 20.
According to legal experts, the bill on Cyber Security, if is approved, will give sweeping new powers to the Vietnamese authorities, allowing them to force technology companies to hand over potentially vast amounts of data, including personal information, and to censor Internet users' posts. The law aims to silence government's critics and every Internet users may be criminally charged just for exercising their basic right to freedom of expression, activists said. The US and Canana, as well as Human Rights Watch and Amnesty International called on Vietnam not to approve the bill.
Meanwhile, with the law on Special Economic Zones, Vietnam's communist government wants to establish three zones namely Van Don, Phu Quoc and Bac Van Phong in the three strategic locations in the three regions of the country, in which foreign investors may be allowed to rent land for 99 years. Activists suspect that the bill is the first step to allow Chinese investors to acquire land and bring Chinese untrained workers to in these locations to turn them into China's territory.
Vietnam has no need to set up more special economic zones to attract foreign investment, said many senior economists, including veteran chief economist Pham Chi Lan. The country has signed a number of free trade agreements with the EU, the US and other countries so it should focus on implementation of these pacts, they said.
In addition to national security issues with the potential investment from China, these special economic zones will create unfair treatments of companies and people in these locations and other remaining places, according to entrepreneur Le Hoai Anh.
Under the public pressure, Vietnam's rubber-stamped parliament and its government said they will postpone the discussion and approval of the bill on special economic zones to the next session of the parliament scheduled in October this year.
The communist-controlled parliament is expected to conduct voting on the bill on cyber security on June 12.
Vietnam's communist governments does not welcome spontanous public demonstrations on most issues, including the country's sovereignty in the South China Sea. In recent years, security forces have suppressed many peaceful demonstrations and persecuted and jailed a number of activists for their participation under allegation of "causing public disorders."