Appeal Hearing of Members of Reviving Vietnam Campaign Set on July 10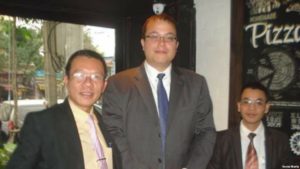 Defend the Defenders, June 19, 2018
The appeal hearing of Vu Quang Thuan and Nguyen Van Dien from the Chan Hung Nuoc Viet (Reviving Vietnam Campaign), and Tran Hoang Phuc has been set on July 10.
The hearing will be held by the Higher People's Court in Hanoi, at the main courtroom of the People's Court of Hanoi.
On January 31, the People's Court of Hanoi convicted the trio, saying they were guilty of "conducting anti-state propaganda" under Article 88 of the country's 1999 Penal Code.
According to the court's decision, Mr. Thuan was sentenced to eight years and six months in prison and additional five years of probation while Mr. Dien was given six years and six months of jail and four years of probation. Phuc received the lightest sentence of six years in jail and an additional four years of probation.
Their indictment said they produced and disseminated 17 video clips which defamed the ruling communist party and its leaders, while Mr. Phuc was said to have assisted the two activists in making and posting three of them on social networks.
In their appeal letters sent to the People's Supreme Court in early February, the activists said they had been tried unfairly by the court. They also reaffirmed that they are not guilty and had only been exercising basic rights enshrined in the country's 2013 Constitution as well as the International Covenant on Political and Civil Rights to which Vietnam is a signatory.
One of their lawyers said that during the trial, Mr. Thuan requested the judge to use a computer to show the trio's video clips as evidences against them for discussion but the judge denied, arguing that the court has not been equipped with such devices. The judge also rejected the proposal of Thuan who said he is willing to donate a sum of VND50 million (around $2,200) for the court to purchase a modern set of computer and screen for the purpose.
Relatives of the trio were not allowed to enter the courtroom of the so-called open trial. They were kept far from the court area while all the roads leading to the court were blocked by numerous police officers and militia. Foreign diplomats were not permitted to observe the hearing in the courtroom while many activists in Hanoi were blocked from going out during the day.
Mr. Thuan and Mr. Dien were arrested in early March while Mr. Phuc was detained on July 3 last year. They were first kidnapped by Hanoi police who later prosecuted them with anti-state propaganda, among thenational security provisions in the Penal Code often used to silence peaceful activists.
For several months before being arrested, Mr. Thuan and Mr. Dien had produced and posted on their Facebook pages many video clips in which Mr. Thuan criticized the Communist leaders and their government for human rights violations, corruption, and weak response to China's violations of the country's sovereignty in the East Sea (South China Sea).
Late President Ho Chi Minh and incumbent General Secretary Nguyen Phu Trong are among figures criticized by Mr. Thuan. Their clips were viewed by millions of Vietnamese Internet users.
The trio was held incommunicado since their arrests until recent months when the investigation was completed. They were allowed to meet with lawyers to prepare for their defense only several days before their trial.
After their arrests, some members of the Chan Hung Nuoc Viet were also summoned to police stations for questioning. However, other members of the campaign continue their live streams on Facebook to provide independent TV channels to address social issues of the country, especially in land grabbing, miscarriage of justice, human rights abuse, and corruption. Their programs have attracted hundreds of thousands of people who have lost their trust in the state media.
The arrests and conviction of the three members of Chan Hung Nuoc Viet are part of Vietnam's ongoing crackdown on political dissidents, human rights defenders, social activists and online bloggers which started in early 2016 when the Communist Party of Vietnam selected its new leadership with many police generals being appointed to senior positions of the party and its government.
Last year, Vietnam convicted at least 19 activists, including human rights defenders Nguyen Ngoc Nhu Quynh and Tran Thi Nga, anti-corruption activist Phan Kim Khanh, and bloggers Nguyen Van Oai and Nguyen Van Hoa. All of them received heavy sentences ranging from five years to ten years in prison. In the first half of this year, Vietnam sentenced at least 20 activists to between three and 15 years in prison, and detained two bloggers on allegation of "conducting anti-state propaganda."
According to theNow!Campaign, an initiative by BPSOS, Civil Rights Defenders, Defend the Defenders, and 11 other partners said that the number is 168 currently.
Hanoi always denies imprisoning any prisoners of conscience and says it only imprisons law violators.