Vietnam Court Upholds Sentences of Three Activists of Vietnam Reviving Campaign, Sending Them Back to Prison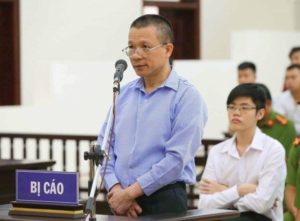 Defend the Defenders, July 10, 2018
On July 10, the Higher People's Court in Hanoi rejected the appeals of Mr. Vu Quang Thuan, Mr. Nguyen Van Dien and Mr. Tran Hoang Phuc of the Vietnam Reviving Campaign, sending them back to prison with a total 20 years and six months in prison and 13 years under house arrest.
The appeal hearing started at 8 AM and ended at 9 PM Tuesday. Unlike their first-instance hearing on January 31,held by the People's Court of Hanoi, Mrs. Huynh Thi Ut, the mother of Mr. Phuc, and the parents of Mr. Dien, were allowed to enter the court room.Diplomatic representatives from the EU, the US and other countries were said to observe the hearing in an adjacent room via TV screen, according to one of the lawyers of the defendants.
All the roads leading to the court areas were blocked by police and militia, observers said.
Mr. Thuan and Mr. Dien were arrested in early March 2017 while Mr. Phuc was detained in late June of the same year. The trio were charged with "conducting anti-state propaganda" under Article 88 of the 1999 Penal Code for their posting video clips on social networks such as Facebook and Youtube.
Particularly, Mr. Thuan and Dien were accusedof producing and posting 31 video clips which defame the ruling Communist Party of Vietnam and its leaders, including late President Ho Chi Minh, the founder of the regime. Phuc, a young activist and president of the unsanctioned Vietnam Student Association for Human Rights, was accused to assist Thuan and Dien in posting three video clips on social networks.
The trio were convicted as Thuan was sentenced to eight years in prison and five years under house arrest while Dien was given six years and six months in prison and four years under house arrest. Phuc was sentenced to six years in jail and four years of probation.
The appeal hearing took longerthan the first trial, with more time for the defendants' lawyers to present their statement to defend their clients. Hanoi-based lawyer Ha Huy Son defendedMr. Thuan and Mr. Dien while Mr. Phuc was representedby seven lawyers including Le Van Luan, Nguyen Van Mieng, Ngo Ngoc Trai and Trinh Vinh Phuc.
Lawyer Ngo Ngoc Trai said the hearing failed to meet international standards for a fair trial as the judge stopped lawyers and defendants from speaking many times during the hearing. He also rejected lawyers' requests of summoning state officials who examined the contents of defendants' postings as well as showing the video clips posted by the defendants to examine their contents.
Like in the trial, the defendants reaffirmed that they are not guilty and had only been exercising basic rights enshrined in the country's 2013 Constitution as well as the International Covenant on Political and Civil Rights to which Vietnam is a signatory.
However, the Higher People's Court in Hanoi rejected the trio's appeals and upheld their sentences given by the lower court. The court's decision is final.
The arrest of the trio was part of Vietnam's ongoing crackdown on local dissent. They are among 20 activists having been convicted so far this year.
One day prior to the appeal hearing, Amnesty International issued a statementcalling on Vietnam's government to free them immediately and unconditionally.
"These three men have committed no crime; they have merely used social media to express opinions that the authorities do not like – namely by supporting the protection of human rights and social justice in the country," said Amnesty International's Senior Director of Global Operations Minar Pimple.
"Viet Nam's long-running use of repressive laws to prosecute and punish peaceful activists must end. As a start, Hanoi's High Court must tomorrow quash all charges against these men and release them," he noted.