Vietnam to Try Spokesman of Brotherhood for Democracy for Subversion Allegation on Aug 17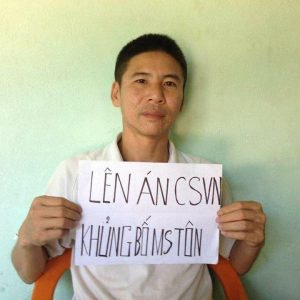 Defend the Defenders, August 3, 2018
The People's Court of Vietnam's central province of Quang Binh will hold a trial against Nguyen Trung Truc, spokesman for Brotherhood for Democracy, on allegation of subversion on August 17.
Mr. Truc, 44, was arrested on August 4, 2017 and charged with "carrying out activities to overthrow the people's administration" under Article 79 of the country's 1999 Penal Code.
He has been kept incommunicado since being detained and it is unclear when he will be permitted to meet with his lawyer to prepare for his defense in the coming trial.
On April 12, Saigon-based lawyer Nguyen Van Mieng, who was hired by the activist's family to provide legal consultation for him, submitted a request for permission to the People's Court of Quang Binhto meet with his client, however, his request was denied.
During the past 12months, his family has been permitted only to send him some additional food. Like in other political cases, his lawyer has not been allowed to attend interrogations.
Truc has been active in promoting human rights and multi-party democracy in Vietnam, as well as assisting fishermen who are affected by the environmental disaster in the central coastal region started in May 2016 as a result of the illegal discharge of a huge amount of toxic industrial waste by the Taiwanese Formosa steel plant located in the central province of Ha Tinh.
He has been harassed by Vietnam's security forces, including kidnappingin 2016 when plainclothes agents abducted him and seven others, bringing them to remote areas in Ha Tinh province where they robbed and tortured them before leaving them in a forest area. The assault was reported by Defend the Defenders and Human Rights Watch.
Truc has been the 8th member of the Brotherhood for Democracy being arrested and charged with serious allegation in the national security provisions in the Penal Code.Others included prominent human rights lawyer Nguyen Van Dai, Protestant pastor Nguyen Trung Ton, engineer Pham Van Troi, veteran journalist and labor activist Truong Minh Duc, English teacher Le Thu Ha, anti-corruption campaigner Nguyen Van Tuc, humanitarian aid Tran Thi Xuan. All of them were convicted on allegation of subversion and sentenced to between seven and 15 years in prison in April-May.
The Brotherhood for Democracy is one of the main targets of the ongoing crackdown of the Vietnamese government on local dissent.In 2017, Vietnam arrested more than 40 activists in 2017 and has detained seven government critics so far this year.
Hanoi has also convicted 20 activists to date, with a total 158 years in prison and 45 years under house arrest, according to Defend the Defenders' statistics.