Vietnam Human Rights Defenders' Weekly Report for August 27- September 2, 2018: Many Activists Detained as Police Tighten Public Security to Prevent Mass Demonstration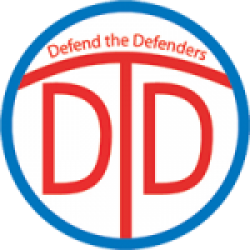 Defend the Defenders | September 2, 2018
Authorities in Vietnam's major cities have been imposing many measures to tighten public control in a bid to prevent mass demonstration amid online calls for rallying in thestreetsto protest the communist regime.
Along with detaining some activists and outspoken Facebookers, local governments have sentplainclothes agents and militia to the private residences of local activists while riot police have beendeployed on major streets. Hanoi and Ho Chi Minh City are de facto in a state of emergency on September 2, the 73rdIndependence Day, said activists.
In recent weeks, many Facebookers, manyin exile, have called for mass demonstration to protest the communist government because of its failures, including social unequality, systemic corruption, serious environmental pollution, and weak government response to China's violations of Vietnam's sovereignty in the South China Sea.
Authorities in the Mekong Delta city of Can Tho have arrested two Facebookers Doan Khanh Vinh Quang and Bui Manh Dong on allegation of calling for mass demonstration on their Facebook accounts.
On August 30-31, police in Khanh Hoa province kidnapped local Facebooker Ngo Thanh Tu, taking himinto custody where he was brutally beaten and interrogated about a leaked party document on how to deal with social disatisfaction which was posted on the Facebook account Ngo Thanh Tu. Tu was released in the early morning of September 1 with severe injuries on his body.
On August 15, police in Dong Nai province also kidnapped former political prisoner Nguyen An and held him for nearly two weeks in detetion without informing his family. He was held in a secret place and released in midnight of August 27.
The People's Court of Quang Binh has re-scheduled the trial ofNguyen Trung Truc, Spokesman of the unsanctioned Brotherhood for Democracy,toSeptember 12. Last month, the court unexpectedly delayed the trial planned for August 17 a few days ahead of the planned time. Truc is expected to receive a long sentence on charge of subversion as with theApril-Augusttrials of other Brotherhood for Democracy members, whoreceivedbetween seven and 20 years in jail.
Political prisoner Tran Huynh Duc Thuc is likely to contiue his hunger strike,which started on August 14,in a bid to pressurethe communist government to release him and other activists who have been convicted and sentenced to lengthy imprisonment in recent months.
===== August 27 =====
Former Political Prisoner Kidnapped, Held in Secret Placefor Nearly Two Weeks
Defend the Defenders: On August 15, Vietnam's authorities kidnapped former political prisoner Nguyen Anand held him in a secret placefor nearly two weeks until August 27, his daughter Nguyen Thi Tra My has told Defend the Defenders.
Ms. My said police from Quang Trung commune, Thong Nhat district in Dong Nai province together with plainclothes agents from the province's Police Department detained Mr. An at around 4.30 PM while he was havinga drink at a cafeteria about two kilometers from his village Le Loi.
The cafeteria owner witnessed the detention and informed his family.
Police took him to the Quang Trung communal police station. When his family came to ask about him, they said they would release him soon.
At 7 PM of the same day, a seven-seat van with the registration number 50A-005.34 belonging to the Ho Chi Minh City's Police Department came and police dragged him into the car and spedaway. The family couldn't chase the vehicle.
In next days, his family wentto the communal police station to question police chief Cang but the officer refused to answer, just saying Nguyen An had beentaken to HCM City.
On August 20, My and her mother Dao Thi Hue went to the Investigation Branch of the HCM City Police Department station in Phan Dang Luu No. 4, Phu Nhuan district to ask about him but police officers told them that they did nothavehim, saying he maybe held by the police unit under the authority of the Ministry of Public Security.
When the family went to the Southern Region's Representative Office of the ministry, they met a police officer namedPhuc who the family recognized as one of police officers participating in Mr. An's abductionthe previous week. Phuc told them that the police would release An soon.
Four days later, the family returned to the office but received the same answers.
In late night of August 27, Ms. My informed that her father came home unexpectedly. However, she She did not answer Defend the Defenders' questions about her father's detention.
Mr. An, 60, isa former soldier of the Vietnam Republic's Army. He was arrested in 1979 and charged with subversion. Later, he was sentenced to four years in prison, and released in 1983.
My told Defend the Defenders that her father participated in the peaceful mass demonstration on June 10 this year to protest two bills on Special Economic Zone and Cyber Security. About one month prior to his detention, he was summoned by the local police for interrogation, however, he was busy and did not go to meet with police as they asked.
===== August 29 =====
17 Protestors in Binh Thuan Probed for Causing Public Disorders
Defend the Defenders: Authorities in Vietnam's central coastal province of Binh Thuan have begun an investigation into17 local residents'participationin the mass demonstration on June 9-11.
State media cited sources from the local police saying these protestors had conducted violent acts during the protest, including burning the local government buildings and attacking the local police forces who tried to violently disperse the gathering.
The protestors were incited by other individuals, state media said.
Sofar, 32 local residents have been prosecuted for causing public disorders and demolishing government buildings. As many as 17 of them were sentenced to a total 30 years in prison.
===== August 30 =====
Trial against Spokesman of Brotherhood for Democracy Nguyen Trung Truc Re-scheduled on Sept 12
Defend the Defenders: The People's Court of Vietnam's central province of Quang Binh has re-scheduled the first-instance hearingagainst Nguyen Trung Truc, spokesman for the unsanctioned group Brotherhood for Democracy, on September 12.
The trial will be held in Dong Hoi city, and is supposed to be open tothe public, according to the organization's fanpage.
Thesame court had set the trial on August 17but suddenly postponed it five days in advance.
Mr. Truc, 44, was arrested on August 4, 2017 and charged with "carrying out activities to overthrow the people's administration" under Article 79 of the country's 1999 Penal Code.
He had been kept incommunicado since being detained until lastmonth when he was permitted to meet with his lawyer Nguyen Van Mieng to prepare for his defense.The Ho Chi Minh City-based attorney will meet with his client for the second time in the coming days, he told Defend the Defenders.
During the past 12 months, his family has been permitted only to send him some additional food. Like in other political cases, his lawyer has not been allowed to attend interrogations.
Truc has been active in promoting human rights and multi-party democracy in Vietnam, as well as assisting fishermen who have been affected by the environmental disaster in the central coastal region as a result of the discharge of a huge amount of toxic industrial waste by the Taiwanese Formosa steel plant located in the central province of Ha Tinh in May 2016.
He has been harassed by Vietnam's security forces, including being kidnapped and beaten in 2016 when plainclothes agents abducted him and seven others, bringing them to remote areas in Ha Tinh province where they robbed and tortured them before leaving them in a forest area.
Truc is the 8th member of the Brotherhood for Democracy to be arrested and charged with serious crimes under national security provisions in the Penal Code.Others include prominent human rights lawyer Nguyen Van Dai, Protestant pastor Nguyen Trung Ton, engineer Pham Van Troi, veteran journalist and labor activist Truong Minh Duc, English teacher Le Thu Ha, anti-corruption campaigner Nguyen Van Tuc, humanitarian aid Tran Thi Xuan. All of them were convicted on allegation of subversion and sentenced to between seven and 15 years in prison in April-May.
The Brotherhood for Democracy is one of the main targets of the ongoing crackdown of the Vietnamese government on local dissent.In 2017, Vietnam arrested more than 40 activists, and has detained seven government critics so far this year.
Hanoi has also convicted 22activists and40 peaceful protestors so far this year, including Vietnamese American William Nguyen. The communist regime has also detained a number of activists, including Nguyen Trung Linh, Le Anh Hung and Huynh Duc Thanh Binh on allegations of subversion or "abusing democratic freedom" under Article 331 of the 2015 Penal Code.
Mr. Truc is expected to be convicted and sentenced to lengthy imprisonment given the recent convictions of activists.
In mid-August, Vietnam's authorities convicted pro-democracy campaigner and environmentalist Le Dinh Luong on allegation of subversion, and sentenced him to 20 years in prison, the highestsentencegiven for an activist in many years.
——————–
Activist Thuc 'Tired And Thin' But Unbowed 17 Days Into Hunger Strike: Family
RFA: Jailed Vietnamese democracy advocate Tran Huynh Duy Thuc looks "very tired and thin" 17 days into a hunger strike to protest police pressure on him to plead guilty in exchange for amnesty, family members said after visiting him in prison on Friday.
Thuc, 52, was visited in Prison No. 6 in Nghe An province on Friday by four family members, Thuc's sister Tran Thi Dieu Lien told RFA's Vietnamese Service.
"Thuc is still on hunger strike. He refuses food provided by the prison or sent from the family. He looked very tired and thin," she told RFA.
"However, he still told us not to worry and that he was still fine," added Lien.
"We asked him why he continues his hunger strike. He wants them to release him based on the law and justice. He said that amnesty measure is not based on justice," she said.
Thuc, who was jailed in 2010 for 16 years under Article 79 of the country's penal code for writing online articles criticizing the Vietnamese government, met with a representative of the procuracy on Aug. 29.
"We talked to them, too, and it turns out that the new manager of the prison had made a decision to limit Thuc's sending letters to family or petitions to leaders," said Lien.
"We talked to the prison's management board about the decision but they did not comment on that and said only the procuracy office has authority to address this issue," she said.
Meanwhile, police in Binh Thuan province continued to prosecute people detaimed after protests on June 10 and 11, a police newspaper reported.
Authorities prosecuted another 17 people for their alleged involvement in the burning of the province's people committee office on June 10.
Binh Thuan province's propaganda committee told the newspaper that most of the protesters were instigated by hostile forces and that most of the protesters who were instigated were addicts or criminals.
According to the newspaper, the 17 join 32 people in Binh Thuan who have been prosecuted for the June 10 protest, one of the largest in recent memory in the communist state.
The Binh Thuan protest—one of several that rocked major cities including Hanoi, Ho Chi Minh City, and Nha Trang—saw demonstrators throw rocks and Molotov cocktails at police and set fire to official vehicles and buildings, with scores of protesters detained across the country.
The protests were launched amid fears that the 99-year special economic zone leases Vietnam plans to offer foreign investors will be snapped up by buyers from neighboring China, with which Vietnam has had tense bilateral relations in recent years—in part due to territorial disputes in the South China Sea.
——————–
Many Activists Detained, Summoned as Vietnam Tightens Public Control in Response to Calls for Mass Demonstrations 
Defend the Defenders: Vietnam's security forces have tightened public control, detaining and summoning many local dissidents in response to calls for mass protest on the occasion of the national holiday (September 2).
On August 30, authorities in the Mekong Delta province of Ben Tre reportedly detained Mr. Nguyen Ngoc Anh, a shrimp grower in the province. Police were said to conduct his house search without showing an arrest warrant or obtainingpermission for the house search.
According to Mr. Doan Huy Chuong, former prisoner of conscience and vice president of the unsanctioned Viet Labor Movement, Mr. Anh was transferred to the province's temporary detention facility. He may face charge of "conducting anti-state propaganda" or "abusing democratic freedom," two accusations Vietnam often usesto silence outspoken citizens.
Mr. Anh has conducted a number of live streams on Facebook speaking out on the country's problems, including systemic corruption, serious environmental pollution, and China's violations of the country's sovereignty but the Vietnamese government has weak responses to deal with.
On the same day, police in the central province of Khanh Hoa kidnapped local resident Ngo Thanh Tu whilehe was riding his motorbike in Ba Ngoi, Cam Ranh city. Tu, a blogger with dissident view, has been held by police while his family has not received any notice from the local authorities.
Many other activists nationwide have been summoned to police stations for questioning. Among them are well-known human rights defender and critical blogger Huynh Thuc Vy and her husband Le Khanh Duy, former member of the ruling communist party and army officer Le Thuong who left the army and the party several ago and publicly calls for multi-party democracy.
Meanwhile, many foreign-based organizations of overseas Vietnamese have called for mass demonstrations in early September on the occasion of the national holiday (September 2). In their calls, they urge local residents to rally to overthrow the incompetent and corrupted communist government which fails to address the country's problems.
Vietnam's authorities have vowed not to allow mass demonstrations in the coming days, saying they would apply all measures to prevent and disperse spontanous gatherings at all costs.
On August 30, state media reported that security forces had arrested a man Le Quoc Binh with a number of guns. Accordingto State media, the man is a member of the Vietnam Reform Party (Viet Tan), came from Cambodia,and plans to conduct violent acts during the national holiday. However, Viet Tan issued a statement saying Binh is not its member and the organization and that it vows for peacceful means to fight for Vietnam's democracy and human rights promotion. 11 years ago, Hanoi made similar misleading accusations when theyarrested aVietnamese American couple with weapons entering Vietnam for violent campaign, however, it was not true and Vietnam was forced to release them silently.
The story about Binh is a play of the Vietnamese security forces in a bid to prepare for aggressive responses to public gatherings next week, observers said.
The communist government has detained hundreds of peaceful protestors during and after the mass demonstrations in mid June and convicted around 40 of them on charge of "causing public disorders" with imprisonments of between eight and 42 months in prison.
===== September 1 =====
Facebooker Ngo Thanh Tu Abducted, Beaten After Long-lasting Interrogation about Leaked Party's Document 
Defend the Defenders: Police in Vietnam's central province of Khanh Hoa have abductedlocal blogger Ngo Thanh Tu, releasing him after long-lasting interrogation and severe torture, the victim told Defend the Defenders on Saturday.
Police in Khanh Hoa abductedTu on the afternoon of August 30 and released him in late evening of August 31, holding him in custody for 31 hours without an arrest warrant, said the 35-year-old outspoken Facebooker.
Tu was abductedby the Cam Ranh City's police at 3 PM onThursday whilehe and his girlfriend were riding his motorbike. Four plainclothes agents on three motorbikes stopped their vehicle at Dong Lac junction and forced him to go with them but let the girl go home with his motorbike.
The policetook him to the headquarters of the Cam Ranh City's Police Division where officers in civil clothes asked him about the Facebook account namedNgo Thanh Tu. When Tu did not admitthatthe account belongs to him, police officers beat his head, abdomen, back,and other parts of his body. Several officers held him and one plumbed water into his nose, Tu said.
Police officer Dong, the head of the city's security unit, started to beat him and later other officers took part in the torture, the victim said.
Police repeatedly beat Tu until 7 PM and they transferred him to the headquarters of the Khanh Hoa province's Police Department where he was interrogated by other police officers about postinga document from the local party's organization on hisFacebook account Ngo Thanh Tu. The posted document is an instruction on measures which aim to deal with social disatisfaction.
During the 17-hour interrogation from 8 PM August 30 to 8 PM the next day, police asked T how he had got the leaked information and posted on his Facebook account. He was not tortured during questioning, he noted.
Tu was returned to the Cam Ranh City's police at around 8.30 PM August 31 where he was asked to give his cell phone to police officers. When he refused, police officers beat him again and confiscatedhis phone.
At 10 PM, police dragged Tu intoa police car and leftthe station. In the car, two police officers beat and slandered him.
Later, they gave him VND200,000 ($9), saying he can use the money for a taxi, and forced him to go out of the car. When he was outside, police officers beat him for the last time before leaving.
Tu said he arrivedhome at 10.30 PM onAugust 31, with many injuries on his body.
Tu used his friend's phone to contact Defend the Defenders, as his phone had been takenand his Facebook account and other accounts on social networks hacked and controlled by Khanh Hoa police.
Tu is among many activists who have been abducted, arbitrarily detained,and tortured by police and plainclothes agents in the last few years.
In mid-August, police in Ho Chi Minh City detained and beat many activists including prominent human rights defender and well-known blogger Pham Doan Trang, pro-democracy campaigner Nguyen Van Cao Dai and singer Nguyen Huu Tin during the raid of the music liveshow of the lattest.
———————
Vietnam Arrests Two Facebookers Allegedly Calling for Mass Protest
Defend the Defenders: Authorities in the Mekong Delta city of Can Tho have arrested two Facebookers Doan Khanh Vinh Quang and Bui Manh Dong on allegation of calling for mass demonstration on the occasion of the Independent Day (September 2) on their Facebook accounts, according to state media.
State media has reported that on September 1, police in Ninh Kieu district, Can Tho City, arrested Mr. Quang, 42, from An Phu ward and probed for illegal posting on social network.
Police conducted a search of his house and found two flags of the Vietnam Republic, the regime supported by the US during the Vietnam War.
Quang was said to have posted articles on his Facebook account,Quang Doancriticizingthe policies of the ruling communist party and calling for mass demonstration to protest the regime.
On the same day, police in Thot Not district also detained Mr. Dong from Thot Not ward with the same allegation.
It is unclear precisely what the charges the two Facebookers are facing.
The right to peaceful demonstration is enshrined in Vietnam's 2013 Constitution, however, the communist-controlledparliament has yet to pass a bill on demonstrations.The government considers all spontanous protests, including peaceful demonstration,illegal.
In recent years, many peaceful protests have been violently dispersed while numerous participants have been detained, beaten and convicted for "causing public disorders" or "resisting on-duty state officials" with imprisonments of between eight months and three years.
After the mass demonstration in June 10, 36 demonstrators have been imprisoned and dozens of others are in pre-trial detention.
===============