Vietnam Likely to Try Pro-democracy Advocate Luu Van Vinh in November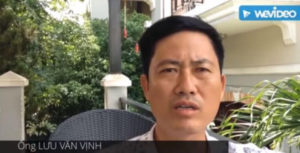 Defend the Defenders, September 9, 2018
Vietnam's authorities may bring pro-democracy campaigner Luu Van Vinh to court to try him on allegation of subversion in November, his wife Nguyen Thi Thap has told Defend the Defenders.
Speaking to Defend the Defenders, Mrs. Thap said she learned the news from his lawyer Nguyen Van Mieng. In the latest meeting, her husband's health is good, she noted.
Mr. Vinh, 51, was arrested on November 6, 2016 and charged with "carrying out activities aimed at overthrowing the people's administration" under Article 79 of the country's 1999 Penal Code.
He was held incommunicado for one year, including five months in Phan Dang Luu temporary detention facility before being transferred to Chi Hoa detention facility in Ho Chi Minh City.
Mr. Vinh'sarrest was said to be linked to the Coalition for Self-determined Vietnamese People. Mr. Vinh founded the coalition in mid-July last year and became the president of the organization which aims to end the communists' political monopoly. All major issues of the country should be decided by the people via referendums, according to its founding statement. However, Vinh was reported to have left the coalition a few days before being detained.
After Vinh's detention, Amnesty International issued a statement calling on Vietnam's government to immediately and unconditionally release him and his friend NguyenVan Duc Do and Buddhist monk Phan Trung.
In May 2018, the UN Working Group on Arbitrary Detention issued a statement saying the arrest and detention of Mr. Vinh are arbitrary, and urges Vietnam's government to release him immediately and unconditionally.
For more information onMr. Vinh's case, please visit Defend the Defenders' archive.