Vietnam Court Rejects Appeal of Activist Nguyen Van Tuc, Sending Him Back to Prison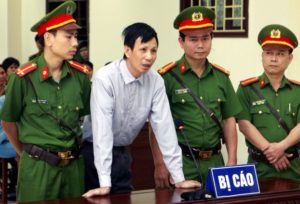 Defend the Defenders, September 14, 2018
The Higher People's Court in Hanoi hasrejected the appeal of former President of the unsanctioned group Brotherhood for Democracy Nguyen Van Tuc, upholding the sentence given by a lower court in April, Defend the Defender has learned.
According to the court's decision made on his appeal hearing in Thai Binh province in the moring on September 13, Mr. Tuc has to spend the next 12 years in prison.
Mr. Tuc, 54, whowas jailed four years in 2008-2012 on conviction of "conducting anti-state propaganda" under Article 88 of the country's 1999 Penal Code, was arrested on September 1, 2017on allegation of "carrying out activities aiming to overthrow the government" under Article 79 of the law. On April 10 this year, the People's Court of Thai Binh province found him guilty and sentenced him to 13 years in prison and five years of probation.
One day prior to the appeal hearing, the New York-based organization Human Rights Watch issued a statement calling the Vietnamese government to drop all charges against Mr. Tuc and release him immediately.
It is unclear whether he can survive in prison given the poor living conditions in Vietnam's prisons and inhumane treatments of prisons' guards, especially for prisoners of conscience.
According to his daughter who was in the courtroomin the trial, Mr. Tuc couldn't stand up during trial. The doctor checked his blood pressure before the trial and the doctor informed the court that it was quite high (190). The defendant also felt his heart muscles cramping up but the court still went on.
Mr. Tuc also has very bad hemorrhoids and he had a lot of rectal bleeding during the trial, the family said.
His health has not improved after the trial, according the family.In late June, his family told the Radio Free Asia (RFA) that he wassuffering deteriorating health in jail some nine months after his arrest.
"When he was arrested, his hair was much blacker and now it has turned quite white. His heart disease makes him unable to sleep and eat in the current hot weather," his wife Bui Thi Rewas quoted by RFA as saying.
Mr. Tuc is the 9th member of Brotherhood for Democracy being imprisoned this year. Eight of them, including its founder Nguyen Van Dai, were also convicted of subversion and sentenced to prison with jail terms of between seven and 15 years, and probation of between one and five years.
The London-based Amnesty Internationalhas listed Mr. Tuc among nearly 100 prisoners of conscience in Vietnam. The right group once called on Hanoi to drop the charges against Tuc and other activists of the Brotherhood for Democracy.
Vietnam continues its political crackdown on local dissent. So far this year, the communist nation has convicted 26 activists and sentenced them to a total nearly 200 years in prison and 56 years of probation.
It has detained 14 activists, mostly on allegations in the national security provisions of the Penal Code since the beginning of this year.
In addition, Vietnam has suppressed peaceful demonstrations, detaining hundreds of them many of whom were tortured and badly treated in police's custody. So far, 43 of them have been sentenced to between eight months and 42 months in prison.