Appeal Hearing of 20-year-jailed Democracy Activist Le Dinh Luong Set on October 18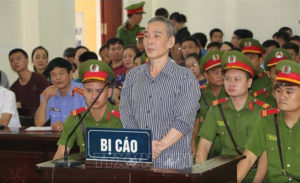 Defend the Defenders, October 1, 2018
The Higher People's Court in Hanoi will carry out the appeal hearing of environmentalist and democracy activist Le Dinh Luong on October 18, one month after the People's Court of Nghe An convicted him on allegation of subversion and gave him the record high sentence of 20 years in prison and five years of probation.
The appeal hearing will be carried out in a courtroom of the People's Court of Nghe An, Vinh city, the same courtroom used for the first-instance hearing, according to a notice sent to his lawyer Ha Huy Son.
In the first-instance hearing which lasted only several hours in the morning of August 16, the court found the 53-year-old activist guilty of "carrying out activities aiming to overthrow the government" under Article 79 of the country's 1999 Penal Code. The People's Procuracy proposed a punishment of 17 years of jail, however, after a long dispute with the defendants' lawyers, judge Tran Ngoc Son decided to give him  the most severe imprisonment given to a political prisoner in the past five years.
Lawyers Ha Huy Son and Dang Dinh Manh provied that their client is innocent as his activities are in line with the Vietnamese law and international human rights law while the defendant affirmed that he acted to protest China's violations of the country's sovereingty, protect the environment against Formosa, and object wrongdoings of local corrupted officials and he is proud of them.
Only Mr. Luong's wife and younger brother were permitted to enter the courtroom while others were forced to stay away from the court's areas. No foreign diplomats were allowed to attend the trial which was open for public.
Mr. Luong, who was arrested in late July last year, is among 11 activists convicted on subversion since 2017. He was given the most severe jail term while ten others were sentenced to between seven and 15 years in prison and up to five years of house arrest for the same charge.
He has been held incommunicado since being arrested until late July when his lawyers got approval from the People's Procuracy to meet with him to prepare for his defense.
Mr. Luong, a veteran in the war against China's invasion of Vietnam's northern region in 1980s, was arrested on July 24, 2017. State media reported that Mr. Luong is an extremely dangerous element belonging to the U.S.-based Viet Tan (Vietnam Reform Party) which is labeled by Vietnamese authorities as a terrorist organization.
According to the Nghe An police, Mr. Luong once called for boycotting the elections of the parliament and local People's Councils while capitalizing on the environmental disasters caused by Formosa to cause social disorders and instigate demonstrations.
Mr. Luong himself was attacked by under-covered policemen in the Central Highlands province of Lam Dong in August 2015 when he visited Tran Minh Nhat, who then completed his sentence on alleged subversion. Many other activists were also beaten in that incident.After his detention, his relatives were also brutally beaten by police forces twice.
In late July, Human Rights Watch issued a statement calling on Vietnam's communist regime to drop all politically-motivated charges against Mr. Luong and release him immediately and unconditionally.
"Vietnamese authorities frequently employ fabricated political charges to punish activists for being affiliated with non-communist groups or parties critical of the government," said Phil Robertson, deputy Asia director at Human Rights Watch.
"Le Dinh Luong is facing prison for protesting the dumping of toxic waste and other environmental disasters that the government should be doing something about," he noted.
"Vietnamese police routinely deprive detained rights activists and bloggers of access to lawyers and family members for months, and then only give their lawyers a very short time to prepare the case before trial," Robertson said, adding "Fundamental change is needed in Vietnam's justice system, but for the needed reform there is no light at the end of the tunnel."
On August 15, one day prior to the trial against him, Amnesty International's Director of Global Operations  Clare Algar said in the organization's press release that "For peacefully campaigning on behalf of fishermen affected by an environmental disaster, Le Dinh Luong could face a life sentence or even the death penalty. This is a patently unjust and politically-motivated case that should be dropped and Le Dinh Luong must be released immediately and unconditionally."
After the trial, the US Department of State expressed itsdeep concern about its outcome, saying that the trend of increased arrests and harsh sentences for peaceful activists in Vietnam is troubling. It has called on
Vietnam's communist regime to release all prisoners of conscience immediately and to allow all individuals in Vietnam to express their views freely and assemble peacefully without fear of retribution.
The US also urges the Vietnamese government to ensure its actions and laws, including the Penal Code, are consistent with the human rights provisions of Vietnam's constitution and its international obligations and commitments.
Given the fact that few convicted political activists have received sentence reduction in their appeal hearings, Mr. Luong has small chance to get lighter imprisonment in his upcoming appeal hearing.