Second Member of Hiến Pháp Group Charged with "Disruption of Security," Facing Severe Sentence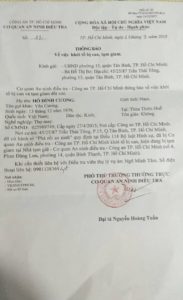 Defend the Defenders, October 5, 2018
Authorities in Vietnam's southern economic hub Ho Chi Minh City have charged Mr. Ho Dinh Cuong (Facebooker Văn Cương Hồ), a member of the unsanctioned group Hiến Pháp (Constitution) with "disruption of security" under Article 118 of the country's 2015 Penal Code, his family has informed Defend the Defenders.
The family said it received a notice from HCM City's Police Department which says Mr. Cuong was arrested and now is probed for the allegation. He is held incomunicado in the temporary detention facility of the city's police located in Phan Dang Luu street, Phu Nhan district.
The notice, issued by the Security Investigation Agency of the city's police on September 21, was handed over to the family on October 5.
If is convicted, Mr. Cuong, 39, is facing imprisonment of up to 15 years in prison, according to the current Vietnamese law.
Mr. Cuong is the second member of the Hiến Pháp group being charged with "disruption of security." The first member alleged with the accusation is citizen journalist Ngo Van Dung (Facebooker Ngô Văn Dũng).
The two activists are two of eight members of the 18-member group being kidnapped by HCM City's security forces in the first week of September on the occasion of the country's Independence Day (September 2). Others are Ms. Doan Thi Hong (Facebooker Xuân Hồng), Ms. Tran Hoang Lan (Facebooker Tran Hoang Lan), Mr. Do The Hoa (Facebooker Bang Lĩnh), Mr. Hung Hung (Facebooker Hung Hung), Mr. Tran Phuong and Mr. Pham Thao (Facebooker Tâm Tâm Nguyen). The last activist was released after being questioned for several days.
Vietnam's police also arrested another member of the group, Mr. Huynh Truong Ca (Facebooker Huỳnh Trương Ca), on September 1 and charged him with ""Making, storing, spreading information, materials, items for the purpose of opposing the State of Socialist Republic of Vietnam" under Article 117 of the 2015 Penal Code.
Members of the Hiến Pháp were detained when security forces in HCM City were put on high alert in view of calls for protests against the government for its failure to address systemic corruption and pollution, its weak response to China's infringement upon Vietnam's sovereignty in the South China Sea, and its growing human rights violations.It is likely that thecity's police arrested them onsuspicion that they planned to organize demonstrations on the occasion of the national holiday.
The group was established in mid 2017 with aim to promote civil and political rights enshrined in the country's 2013 Constitution. Its members were key figures in the mass demonstration in mid-June in HCM City with the participation of tens of thousands of people coming from different social groups to protest the Vietnamese parliament's plan to pass two bills on Special Economic Zones and Cyber Security.
On September 3, the police of HCM City also arrested female activist Hoang Thi Thu Vang and charged her with "disruption of security." Vang, 52, who works for promoting food safety, reportedly participated in the mass protest in HCM City in June.
Article 118 is among national security provisions of the Penal Code that Vietnam's communist regime often uses to silence local dissidents. Many foreign democratic governments and international rights groups have called on Hanoi to remove these provisions in line with Vietnam's international commitments on civil and human rights.