Vietnam Arrests 9th Member of Unsanctioned Hiến Pháp Group amid Intensified Crackdown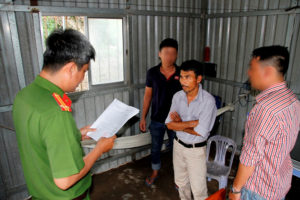 Defend the Defenders, October 10, 2018
Security forces in Vietnam's southern city of Can Tho have detained Le Minh The, a member of the unsanctioned group Hiến Pháp (Constitution) in effort to intensify crackdown on local dissent, Defend the Defenders has learned.
According to a member of the group who is hiding to avoid the group's suppression, authorities in Binh Thuy district deployed around 40 police officers to Mr. The's private residence in Tran Quang Dieu street in Can Tho City on October 10.
On late afternoon of Wednesday, police broke in his house and detained him to the district police station. State media reported that he was charged with "abusing democratic freedom" under Article 331 of the 2015 Penal Code. With this allegation, he is facing imprisonment of up to seven years, if is convicted.
Mr. The, 55, will be held in the next two months for investigation, state media said, adding he is accused of using his own Facebook accounts to call for demonstration against two bills on Special Economic Zones and Cyber Security.
Mr. The, with his Facebook account Lê Minh Thể, has been the 5th Facebooker arrested and charged with "abusing democratic freedom" in Can Tho since September. Last month, Can Tho City's authorities arrested and convicted four local residents named Doan Khanh Vinh Quang, Bui Manh Dong, Nguyen Hong Nguyen and Truong Dinh Khang, sentencing them to between 12 months and 30 months in prison.
He is the 9th member of Hiến Pháp group being arrested since the beginning of September. Others include Huynh Truong Ca (Facebooker Huỳnh Trương Ca) who was arrested on September 1 and charged with "Making, storing, spreading information, materials, items for the purpose of opposing the State of Socialist Republic of Vietnam" under Article 117 of the 2015 Penal Code, and Ho Dinh Cuong (Facebooker Văn Cương Hồ)and Ngo Van Dung (Facebooker Ngo Van Dung)who were kidnapped on September 4 and later charged with "disruption of security" under Article 118 of the 2015 Penal Code. Police also kidnapped Ms. Doan Thi Hong (FacebookerXuân Hồng), Ms. Tran Hoang Lan (Facebooker Tran Hoang Lan), Mr. Do The Hoa (Facebooker Bang Lĩnh), Mr. Hung Hung (Facebooker Hung Hung), and Mr. Tran Phuong in the first week of last month on the occasion of the country's Independence Day (September 2), however, police have not noticed their families about their detentions and charges.
According to the current Vietnamese law, individuals accused of allegation under Article 117 may face imprisonment of up to 20 years while the maximum punishment for the allegation under Article 118 is 15 years in jail.
Hiến Pháp was established on June 16, 2017, striving to educatepeople abouthuman rights as well as political and civil rights by disseminating Vietnam's 2013 Constitution among citizens. Its members were key figures in the mass demonstrationon June 10 in HCM City which aimed to protest the Vietnamese parliament's plan to approve two bills on Special Economic Zones and Cyber Security, one of the group's member told Defend the Defenders.
Vietnam's communist regime has resumed its raid to arrest government's critics after arresting seven members of the unregistered group Brotherhood for Democracy in July-September last year.
Since the beginning of 2018, Vietnam has arrested 24 activists, mostly with allegations in national security provisions such as subversion (Article 109), conducting anti-state propaganda (Article 117), disruption of security (Article 118) and abusing democratic freedom (Article 331).
Hanoi has convicted 38 human rights defenders and online bloggers, sentencing them to a total of 282.5 years in prison and 66 years of probation.
More arrests will be expected in coming months and especially from January 1 next year when the Law on Cyber Security becomes effective. According to international human rights groups and local critics, the law aims to silence online bloggers and Facebookers.