Vietnamese Medical Doctor Sentenced to Seven Years in Prison for Printing 3,300 Leaflets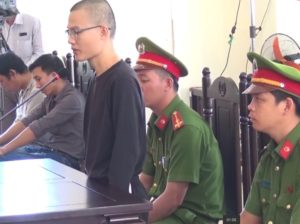 Defend the Defenders, October 17, 2018
Authorities in Vietnam have sentenced local medical doctor Nguyen Dinh Thanh to seven years in prison for printing 3,300 leaflets which he produced to call for peaceful demonstration to protest two bills on Special Economic Zones and Cyber Security, state media has reported.
On October 17, the People's Court of Binh Duong province found Mr. Thanh guilty of "Making, storing, spreading information, materials, items for the purpose of opposing the State of Socialist Republic of Vietnam" under Article 117 of the 2015 Penal Code.
Mr. Thanh, a 27-year-old worker of a local healthcare facility, was arrested on June 8, two days prior to the mass demonstration when he was printing 3,300 leaflets in a local photo shop, according to media. He was the person making the contents of the leaflets, media said, citing information from the local police.
Thanh, who graduated from the prestigious Hanoi Medical University had posted a number of articles with "toxic contents" defaming the ruling communist government on his Facebook account since 2013 when he was a student of the Hanoi Medical University.
He has been in the black list of Binh Duong province's Police Department, media said.
In recent months, a number of activists have been convicted on allegation under Article 117 or "abusing democratic freedom" under Article 331 for their posts on social networks. They include agronomist Nguyen Ngoc Anh from Ben Tre and businessman Huynh Truong Ca from Dong Thap, and four bloggers named Nguyen Hong Nguyen, Truong Dinh Khang and Bui Manh Dong from Can Tho.
A number of others have been accused of "disruption of security" due to their attempts to call for peaceful demonstrations on various issues of the country, including human rights abuse, widespread environmental pollution and systemic corruption.
More arrests of Facebookers are expected in coming months once the Cyber Security become effective. The law, passed by the rubber-stamped National Assembly on June 12, is considered by rights group as an effective tool to silence government critics.
So far this year, Vietnam has arrested 26 activists and charged them with controversial articles in the national security provisions of the Penal Code. The communist regime has convicted 39 human rights defenders and democracy campaigners, sentencing them to a total 294.5 years in prison and 66 years of probation, according to Defend the Defenders' statistics.
In addition, Vietnam has also convicted nearly 70 protesters participating in the mass demonstration in mid-June on allegation of "disrupting public orders", giving them imprisonments of between eight months and 54 months or probation of between five and 24 months.