Dong Nai Court Upholds Jail Sentences of 15 Mid-June Protesters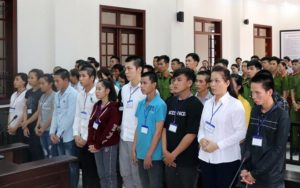 Defend the Defenders, November 9, 2018
On November 9, the People's Court of Dong Nai province rejected the appeals of 15 individuals who had been sentenced by a lower court four months ago to between eight and 18 months in prison for their participation in a peaceful demonstration against two bills on Special Economic Zones and Cyber Security in mid June this year.
At the end of the appeal hearing which lasted around four hours of Friday, the court upheld the sentences given by the People's Court of Bien Hoa city on July 30.
According to the court's decision on November 9 which is likely final judgement, Mr. Tran Nguyen Duy Quang will have to spend 18 months in prison, Mr. Pham Ngoc Hanh- 16 months, Vo Nhu Huynh- eight months and the remaining 12 demonstrators- ten months each on allegation of "disrupting public orders" under Article 318 of the 2015 Penal Code. Six of them are female.
Saigon-based lawyer Dang Dinh Manh, one of attorneys defending 15 protesters, said after the first-instance hearing, the convicted demonstrators had filled appeals seeking for sentence reduction, however, in the appeal hearing, they affirmed that they are innocent and requested for immediate and unconditional release.
The lawyers also stood that their clients should be freed because they were sentenced just for peacefully exercised their rights to freedom of expression and assembly which are enshrined in the country's 2013 Constitution.
Despite the defendants' claims and their lawyers' defenses, the court still kept to uphold their jail sentences.
The convicted protesters are among nearly 90 mid-June protesters who have been imprisoned on allegation of causing public disorders so far this year. Many others have been imprisoned or held in police custody for calling for peaceful demonstration or taking part in the mass demonstration in mid June to protest the two bills. The first is likely to favor Chinese investors to hire land for 99 years amid increasing concerns about Beijing's aggressiveness in the South China Sea while the second aims to silence online critics.