Vietnamese Court Delays Appeal Hearing of Spokesman of Brotherhood for Democracy Convicted of Subversion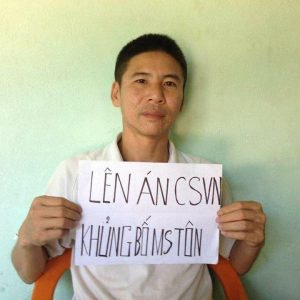 Defend the Defenders, November 21, 2018
The Higher People's Court in Danang has postponed the appeal hearing of Nguyen Trung Truc, the spokesman of the banned group Brotherhood for Democracy (BFD) on allegation of subversion, Defend the Defenders has learned.
According to the court's decision dated on November 5, the appeal hearing was delayed in a bid to allow the authorities to get more information and evidence.
In late September, the court set up the appeal hearing on November 5.
Saigon-based attorney Nguyen Van Mieng, who was hired by Mr. Truc's family to provide legal assistance for him in the first-instance hearing and the appeal hearing, had not been informed about the court's plan to open the appeal hearing in early November. On November 15, the court approved him to participate in the appeal hearing.
Mr. Truc, 44, was arrested on August 4, 2017 and charged with "carrying out activities aiming to overthrow the government" under Article 79 of the country's 2015 Penal Code.
He had been kept incommunicado since being detained until August2018 when he was permitted to meet with his lawyer to prepare for his defense.
On September 12, the People's Court of Vietnam's central province of Quang Binh convicted Truc, sentencinghim to 12 years in prison and five years of probation afterward.
The trial lasted just three hours and only his son Nguyen Minh Tam wasallowed to attend the hearing, according to his lawyer Nguyen Van Mieng. Some foreign diplomatic missions werereportedly denied to sending their representatives to observe it.
One day ahead of the trial, Human Rights Watch issued a press release calling the Vietnamese authorities to drop all charges against him and release him immediately.
"Nguyen Trung Truc is yet another victim of the Vietnamese government's campaign against people who advocate human rights and democracy," said Phil Robertson, deputy Asia director at Human Rights Watch. "The country is now becoming a giant prison for anyone who speaks up against the government or acts to advance basic rights."
Few hours after the trial, the US Embassy in Vietnam released a statement saying it is "deeply concerned that a Vietnamese court has convicted Nguyen Trung Truc to 12 years in prison and 5 years' probation under vague charges of "attempting to overthrow the people's administration."
The trend of increased arrests and harsh sentences for peaceful activists in Vietnam is troubling, said the Embassy in its statement.  The US calls on Vietnam to release all prisoners of conscience immediately and to allow all individuals in Vietnam to express their views freely and assemble peacefully without fear of retribution, and urges the Vietnamese government to ensure its actions and laws, including the Penal Code, are consistent with the human rights provisions of Vietnam's constitution and its international obligations and commitments.
Truc has been active in promoting human rights and multi-party democracy in Vietnam, as well as assisting fishermen who have been affected by the environmental disaster in the central coastal region as a result of the discharge of a huge amount of toxic industrial waste by the Taiwanese Formosa steel plant located in the central province of Ha Tinh in May 2016.
He hadbeen harassed by Vietnam's security forces, including being kidnapped and beaten in 2016 when plainclothes agents abducted him and seven others, bringing them to remote areas in Ha Tinh province where they robbed and tortured them before leaving them in a forest area.
Truc is the 8th member of the Brotherhood for Democracy to be arrested and charged with serious crimes under national security provisions in the Penal Code.Others include prominent human rights lawyer Nguyen Van Dai, Protestant pastor Nguyen Trung Ton, engineer Pham Van Troi, veteran journalist and labor activist Truong Minh Duc, English teacher Le Thu Ha, anti-corruption campaigner Nguyen Van Tuc, humanitarian aid Tran Thi Xuan. All of them were convicted on allegation of subversion and sentenced to between seven and 15 years in prison in April-May.In addition, Vietnam also arrested former teacher and prisoner of conscience Vu Van Hung, who is also a member of the group, and sentenced him to one year in prison in a politically trumped-up case.
The Brotherhood for Democracy is one of the main targets of the ongoing crackdown of the Vietnamese government on local dissent.
Expressingno tolerance withgovernment's critics, the Vietnamese communist government has arrested 26 activists so far this year, and convicted 39 human rights defenders, giving them a combined 294.5years and 66 years of probation. The highest sentence of 20 years in prison and five years of probation was given to human rights advocate and democracy activist Le Dinh Luong in the trial against him inAugust.
In addition, Vietnam has imprisoned 66 peacefulprotestors who participated in the mass demonstration in mid-June, with imprisonment of between eight months and 54months. Eight others were given probation.