Imprisoned Prominent HRD Tran Huynh Duy Thuc Suspects He Was Poisoned, Denied of Basic Things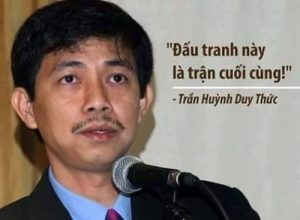 Defend the Defenders, November 24, 2018
Imprisoned prominent human rights defender Tran Huynh Duy Thuc suspects that he had been poisoned by authorities in the Prion camp No. 6 in Nghe An who are denying him of number of services, according to his family.
During a meeting with his family in the prison on November 24, he said his health worsened critically four days ago.
Accordingly, he waked up at 05:15AM of Tuesday and felt dizzy while his blood rose to 150/110. He sweated a lot, and vomited with small blood after uptaking water.
While laying in his bed to rest, he continued to vomit and had severe headache. The prison's medical staff said he had "cerebral circulation" and gave himtwo pills,but he vomitted immediately after taking them.
His blood pressure became normal at 7AM and he took his breakfast and lunch but he felt tired all day. His health recovered next day.
Suspecting that the prison's food is not safe, Thuc now eats only the food supplied by his family, he told his relatives.
However, the prison's authorities are refusing to provide him with hot water which he needs for preparing noodle.
Thuc said the prison's treatment with him has been changed recently. The prison's authorities also refuse to allow him to receive his mails. Further more, they had informed him that they will consider not giving him hot water, not allowing to use torch for reading, sphygmomanometer and blood glucose meter for health checking.
Thuc urges the domestic and the international community to pay attention to his case, his family said.
Former prisoner of conscience Le Cong Dinh said the moves of the authorities of Prison No. 6 in the central province of Nghe An aim to pressure on Thuc in a bid to force him to make false confession, as a foreign diplomat told him last week. Vietnam's government is not willing to free Thuc without having his false confession, Dinh said.
Mr. Thuc, 52, was arrested on May 24, 2009 and charged with subversion for his peaceful expression of opinions. Later, he was sentenced to 16 years in prison.
Many democratic governments and international human rights organizations have called on Vietnam's communist regime to release him unconditionally and immediately. Some foreign countries reportedly say they are willing to offer their citizenship for him but he likely refuses to live in exile but stays in the country to fight for human rights and multi-party democracy.
You can get more information about him on our website.