Human Rights Defender Huynh Thuc Vy Sentenced to 33 Months in Prison on Charge of "Disrespecting National Flag"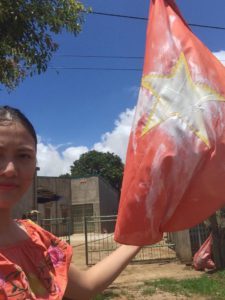 Defend the Defenders, November 30, 2018
On November 30, the People's Court of Buon Ho town in Vietnam's Central Highlands province of Dak Lak convicted local human rights defender and political blogger Huynh Thuc Vy on charge of "Affronting the national flag or national emblem" under Article 276 of the country's 1999 Penal Code.
The court sentenced her to two years and nine months in prison, however, she will serve her sentence once her daughter becomes three years old. Her child is now around 26 months.
The court also ruled that she will have to stay under house arrest and cannot leave her area before completing her sentence.
Authorities in Dak Lak deployed large number of police and militia to block all roads leading to the court areas to prevent local activists from gathering near the area to support her. A number of activists were summoned to local police stations.
Few days before the trial, Vy announced that she is pregnant in the 8th week for second child. If so, she will not be able to serve her sentence until the second child becomes three years old.
The incident started in September last year, on the occasion of the Vietnamese Independence Day (September 2) as Vy posted a picture of her with the Vietnamese national flag which was tained with paint on her Facebook account. Someone said she intentionally defamed the flag that she has never recognized.
On August 9 this year, police in Dak Lakdetained herafter she denied police's request to go to a local police station for interrogation about the incident occured last year.She was released in late evening of the same day.
Police also searched her house and confiscated her laptop, Ipad, books and other items. They summoned her on October 16 and returned some of these items.
Later, police announced to charge her with "disrespecting the national flag" and placed her under house arrest. They also issued a decision banning her from travel abroad.
Vy, 33, is the oldest child of former political prisoner Huynh Ngoc Tuan, who spent ten years in prison in 1992-2002 for sending his political book abroad.
She has posted a number of articles for human rights and multi-party democracy, including a book tittled "Nhận định Sự thật Tự do và Nhân quyền" (A view on Truth, Freedom and Human Rights). She also advocates for rights of ethnic minorities in the Central Highlands, often visiting families of prisoners of conscience in the region.
She is among founders of the unsanctioned organization Vietnam Women for Human Rights, and was its president before getting maternal leave.
She is banned from foreign trip as police confiscated her passport when she was on her way to attend a workshop on cyber security organized by Reporters Without Formers in Bangkok in June 2015.
She was interrogated many times in the past. In 2012, she was arrested by the police, put in a car that went for a 1,000kms. She was then interrogated continuously for 12 hours, before being dropped at a fuel station at midnight.
In May, the British Broad Corporation (BBC) listed Vy as one of five female activists who are risking their lives to protect others' rights. Other activists include Wang Yu from China, Maria Chin Abdullah from Malaysia, Anchana Heemina from Thailand and Phyoe Phyoe Aung from Myanmar.
Since 2013, Mr. Tuan's family has been suppressed by police. He was brutally assailed by plainclothes agents several times and suffered a number of severe injuries.
The family of his youngest child, Huynh Trong Hieu, was forced to flee to Thailand to seek for political asylum.
Under police's pressure, Vy and her husband Duy were forced to leave Ho Chi Minh City to Buon Ho several years ago where they are running coffee business.
The conviction against Vy aims to silence her as the charge against her is the first kind of persecution against local dissident.
One day ahead of the trial, the London-based human rights organization Amnesty International issued a statement calling Vietnam to drop all charge against her.
"This ludicrous charge must be dropped as it is aimed solely at silencing a dedicated, peaceful human rights activist. This is a politically motivated prosecution, brought by the authorities in response to Huynh Thuc Vy's tireless work to expose human rights violations in Viet Nam and hold the powerful to account," said Nicholas Bequelin, Amnesty International's Regional Director for East and Southeast Asia and the Pacific.
"For the authorities to use the charge of 'insulting the national flag' to curb peaceful criticism underlines the worsening crackdown on the right to freedom of expression in Vietnam. The real insult here is the lack of respect the authorities are showing for human rights and international law and standards."