Vietnam Court Upholds Lengthy Sentence of BFD Spokesman Nguyen Trung Truc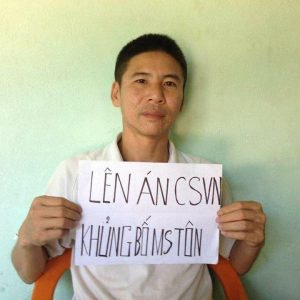 Defend the Defenders, December 26, 2018
On December 26, the Higher People's Court in Danang rejected the appeal of democracy activist Nguyen Trung Truc, upholding his sentence of 12 years in prison and five years of probation given by a lower court three months ago.
In the so-called open appeal hearing which lasted several hours in the court's headquarters in the central city of Danang, relatives of the defendant were not permitted to observe the hearing from inside of the courtroom but stayed away from the room, said his lawyer Nguyen Van Mieng.
Although the lawyer proved that his client is innocent and requested for his immediate and unconditional release, the court decided to make no change of the decision made by the People's Court of Quang Binh in the first-instance hearing on September 12.
Mr. Truc, 44, was arrested on August 4, 2017 and charged with "carrying out activities aiming to overthrow the government" under Article 79 of the country's 1999Penal Codefor his activities which aim to promote human rights and multi-party democracy as well as his efforts to support victims of the environmental disaster caused by the Taiwanese Formosa steel plant in Vietnam's central coastal region in 2016.
Before being arrested, Truchadbeen harassed by Vietnam's security forces, including being kidnapped and beaten in 2016 when plainclothes agents abducted him and seven others, bringing them to remote areas in Ha Tinh province where they robbed and tortured them before leaving them in a forest area.
Truc, the spokesmanof the Brotherhood for Democracyand the representative of the organization in the central region,is the 8th member of the group to be arrested and charged with serious crimes under national security provisions in the Penal Code.Others include prominent human rights lawyer Nguyen Van Dai, Protestant pastor Nguyen Trung Ton, engineer Pham Van Troi, veteran journalist and labor activist Truong Minh Duc, English teacher Le Thu Ha, anti-corruption campaigner Nguyen Van Tuc, and humanitarian aid Tran Thi Xuan. All of them were convicted on allegation of subversion and sentenced to between seven and 15 years in prison in April-Junethis year.
The Brotherhood for Democracy is one of the main targets of the ongoing crackdown of the Vietnamese government on local dissent.
Expressingno tolerance withgovernment's critics, the Vietnamese communist government has arrested 26 activists so far this year, and convicted 39 human rights defenders, giving them a combined 294.5years and 66 years of probation. The highest sentence of 20 years in prison and five years of probation was given to human rights advocate and democracy activist Le Dinh Luong in the trial against him inAugust.
In addition, Vietnam has imprisoned 58peacefulprotestors who participated in the mass demonstration in mid-June, with imprisonment of between eight months and 54months. Eight others were given probation.