Latest Count: Vietnam Holds 251 Prisoners of Conscience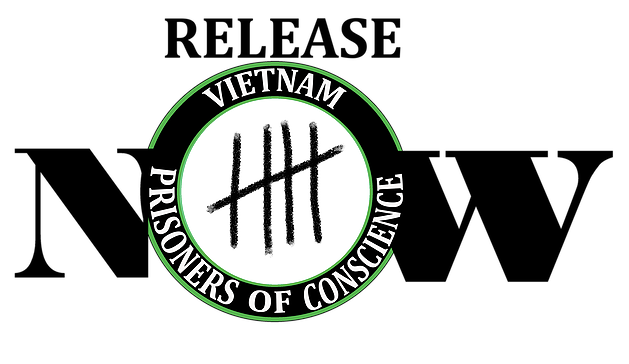 NOW! Campaign, Press Release, April1, 2019
According to the NOW! Campaign, an initiative involving 15 international and Vietnamese civil society organizations, the government of Vietnam is holding at least 251 activists in prisons or similar forms of detention compared to 165 cases in November 2017, when the campaign was launched. This makes the country the second largest jailer of dissidents in Southeast Asia, only behind Myanmar. 
The above number includes 221 who have been convicted, typically of political crimes such as "propaganda against the state," "subversion" and "sabotagingthe implementation of solidarity policies," and 30 others who are held in pre-trial detention. The number does not include six persons who participated in peaceful protests in mid-June of 2018 and sentenced between 12 and 18 months of suspended prison terms.
Many bloggers, lawyers, unionists, land rights activists, political dissidents, and followers of unregistered minority religions have been arrested and detained for peacefully exercising their internationally and constitutionally protected rights, principally the right to freedom of expression, freedom of peaceful assembly and freedom of religion or belief. The list does not include individuals who have engaged in or advocated violence.
As many as 32 of the prisoners of conscience among the 251 identified by the NOW! Campaign are female and they come from the majority Kinh ethnic group. In total, 176 people, or 70% of the list, are ethnic Kinh. The second largest ethnic grouping on the list are Montagnards, a loose set of religious and ethnic minorities who live in the mountains of the Central Highlands. They account for 23.2% of those on the list. Sixteen of those on the list are Hmong people and two from Khmer Krom ethnic minority.
Most prisoners of conscience have been charged with or convicted onallegations under Articles 109, 116,117, 318 and 331 in the 2015 Penal Code (previously Articles 79, 87, 88, 245 and 258 of the 1999 Penal Code, respectively):
– 47 activists convicted forsubversion (Article 79 of 1999 Penal Code or Article 109 in the 2015 Penal Code);
– 31 activists convicted and five charged with anti-state propaganda (Article 88 of the 1999 Penal Code or Article 117 of the 2015 Penal Code);
– 57 people from ethnic minorities convicted for undermining the national unity policy (Article 87 of the 1999 Penal Code or 116 of the 2015 Penal C);
– 12 activists convicted of or charged with "abusing democratic freedom" (Article 258 of the 1999 Penal Code or Article 331 of the 2015 Penal Code);
– 66 individuals convicted of or charged with "disrupting public orders" (under Article 245 of the 1999 Penal Code or Article 318 of the 2015 Penal Code). Fifty two of them were imprisoned for peaceful participation in or being suspected of planning to participate in the mid-June 2019 demonstrations and their aftermath.
– The charges against16 individuals are unknown or yet to be announced by authorities. One typical example is the case of Huynh Thi To Nga (F) who was kidnapped by police on January 28 when she was working atNguyen Tri Phuong Hospital in HCM City. There has beenno news abouther detention and her family has not been informed ofher present situation.
Abduction becomes rampant
Since September 2018, Vietnam's security forces have carried out many abductions to detain local activists before announcingthe official charges, and in some cases, they hold detainees for months without informing their families about their arrest and charges.
In early September last year, police in Ho Chi Minh City abducted seven members of the unregistered group Hien Phap (Constitution) and still hold them incommunicado. After requests fromtheir families, the city's police admitted that they were kept in custody for investigation of criminal charges. The charges against two of them, Tran Thanh Phuong (M) and Do The Hoa (M), remain unknown totheir families and the public.
In late February 2019, undercover police officers detained medical worker Huynh Thi To Nga (F) while she was working atNguyen Tri Phuong Hospital in HCM City. Police in HCM City have yet to announceher detention and charge against her. The charge againstherolder brother Huynh Minh Tam (M),who was arrested two days earlier,also remains unknown.
Along with kidnapping activists in the country, Vietnam's security forces seem to have carried out illegal arrests in foreign countries also. On January 25, former prisoner of conscience Truong Duy Nhat (M) registered withthe Office of the UN High Commissioner on Refugee (UNHCR) in Bangkok for refugee protection. He went missing the next day.After repeated requests for information, his family was finallyinformed on March 20 that he had beentaken into police custodyon January 28 atT16 detention facility in Hanoi under the authority of the Ministry of Public Security. Several days later, the ministry announced that he was being investigated foreconomic crime. However, police have not disclosedany information about his situation or status despite multiple expressions of concern byinternational rights groups.
Arrests in January-March
So far this year, Vietnam has arrested ten activists and charged them with different allegations, mostly underarticles in the National Security provisions of the Penal Code. Most of the arrests are related to online postingsbythe detainees afterthe Law onCyber Security came intoeffect on January 1.
The charges against Huynh Minh Tam (M) and Tran Van Quyen (M) remainunknown. Tam's younger sister, Huynh Thi To Nga,was kidnapped by plainclothes agents in late February and police have yet to announcethe circumstance ofher arrest or the allegationmade against her
Authorities in Bac Ninh Province arrested social activist Ha Van Nam on March 5and charged him with "causing public disorder," apparently to stophis protest against the arbitrary placement of tollboothson national highways. Thepolicealso detained Nguyen Ba Manh for his Facebook posts about local kindergartens' feeding childrenwith tapeworm-infested pork; he was accusedof spreading "fake news" even though the state media later recognized thathundreds of local children hadbeen tested positively with tapeworm infection.
Conviction in January-March
In March, two activists were convicted in separate trials. Le Minh The (M), a member of the Hien Phap (Constitution) group, was sentenced to two years in prison on allegation of "abusing democratic freedom" under Article 331.Protestant missionary Ksor Ruk (M) was sentenced toten years in prison for the charge of "undermining the government's policy of nationalunity" under Article 116 of the 2015 Penal Code.
On March 18, the Higher People's Court in HCM City upheld the heavy prison sentences againstfive democracy campaigners Luu Van Vinh(M), Nguyen Quoc Hoan(M), Nguyen Van Duc Do(M), Tu Cong Nghia (M) and Phan Trung (M). They had beensentenced to a total of 57 years in prison and 15 years of probation by a lower court on November 5, 2018 for their plan to set up Vietnam National Coalition,aiming to promote civil and political rights of all citizens and end the political monopoly of the ruling communist party.
Vietnam's communist regime continues to convict and imprison people participating in the mass demonstrationsin mid June of last year to protest the bills on Special Economic Zones and Cyber Security.
On March 7, a court in Binh Thuan Province sentenced 15 protesters to between 24 and42 months in prison. NOW! Campaign is not able to verify whether the convicted protesters had acted peacefullyor not during the demonstrations on June 10-11, 2018.
Inhumane treatement of PoCs
Vietnam's authorities have been criticized by international human rights organizations forinhumane treatment of prisoners of consciences, including transferring some of them to prisons far from their hometowns. This has caused additional hardshipfor their relatives to conduct regular prison visits. Other forms of mistreatment of prisoners of conscience includeplacing themin severe living conditions, providing them with poor-quality food and drinking waterand imposing forced labor, among others.
Democracy campaigner Tran Hoang Phuc (M) has reportedly refusedto eat food provided by An Phuoc Prison because he suspects that the food is not safe. He onlyconsumesfood supplied by his family.
Imprisoned citizen-journalist Nguyen Van Hoa (M) conducted hunger strike on February 23-March 6 while serving his 7-year jail term in An Diem Prison in his bid to call for the investigationand prosecution of police officers and prison guards who had subjected him to torture.
Many prisoners of conscience in Ba Sao Prison have complained that they are forced to work while serving their jail sentences.
Released in January-March
In January-March, human rightsactivist Vu Van Hung (M), labor activist Nguyen Hoang Quoc Hung (M) and Vo Nhu Huynh (F), who participated in a peaceful demonstration in June 2018,completed their prisonsentences.
Police in HCM City released Huynh Duc Thinh (M) after seven months of detentionon accusion of being part of a subversion case. He was taken into police custody onJuly 8, 2018; the day before, his son Huynh Duc Thanh Binh, and two of the latter's friends.Tra Long Phi and Michael Minh Phuong Nguyen,were arrestedand charged with subversion. They arestill in police custody.
Rmah Hruth, an ethnic Jarai woman who was sentenced to five years of imprisonment in March 2014, was expected to complete her prisontermin March. Nguyen Huu Thanh (M) and Nguyen Thi Nhu Hoa (F), both participants in a mass demonstration in mid-June 2018,were expected to complete their prison sentencesof eight and nine months in February and March, respectively.We have not been able to verify their actual release from prison.
========================
The term "prisoner of conscience" (POC) was coined by Peter Benenson in the 1960s. It refers to any individual "imprisoned for his/her political, religious or conscientiously held beliefs, ethnic origin, sex, colour, language, national or social origin, economic status, birth, sexual orientation or other status who have not used violence or advocated violence or hatred."
The NOW! Campaign is a joint campaign initiated by Boat People SOS (BPSOS) calling upon the government of Vietnam to release all prisoners of conscience immediately and unconditionally. The campaign is supported by 15 non-government organizations:
Boat People SOS (BPSOS)
Front Line Defenders (FLD)
Civil Right Defenders (CRD)
Christian Solidarity Worldwide (CSW)
Defend the Defenders (DTD)
Stefanus Alliance International
ASEAN Parliamentarians for Human Rights (APHR)
The 88 Project
Independent Journalists Association of Vietnam (IJAVN)
Progressive Voice-Burma
Vietnam Women for Human Rights (VNWHR)
Campaign to Abolish Torture in Vietnam (CAT-VN)
World Organisation Against Torture (OMCT)
Montagnard Human Rights Organization (MHRO)
Vietnam Coalition against Torture (VN-CAT)
For more information on the NOW! Campaign, visit www.vietnampocs.com.