Authorities in Nghe An Arrest Local Democracy Activist, Charging Him with "Conducting Anti-state Propaganda"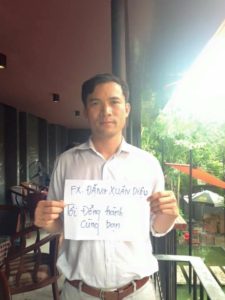 Defend the Defenders, May 30, 2019
On May 29, security forces in Vietnam's central province of Nghe An arrested Mr. Nguyen Nang Tinh, a lecturer of the Nghe An College for Culture and Art, and charged him with "Making, storing, spreading information, materials, items for the purpose of opposing the State of Socialist Republic of Vietnam" under Clause 1, Article 117 of the country's 2015 Penal Code.
According to local activists, security forces detained Mr. Tinh and his two children in their private residence in Quynh Hung commune, Quynh Luu district shortly after they came back from Dong Thap province where his wife works as a teacher. Their sons, students of primary school, live with his wife in the Mekong Delta.
After taking the father and his two sons to the communal police station, police conducted a search of his house and confiscated some items, including a computer and cell phones. His rent room near the college was also said to be searched by police.
Two hours later, police requested Mr. Tinh's father to go to the police station to collect his grandchildren. They took him away without issuing an arrest warrant, probably to Nghi Kim temporary detention facility under the authority of the Nghe An province's Police Department.
On May 30, the Nghe An newspaper, the outlet of the province's government, announced that Mr. Tinh, 43, was charged with "conducting anti-state propaganda" with imprisonment of between five and 12 years if is convicted.
Accordingly, Mr. Tinh has used his Facebook account Nguyễn Năng Tĩnh to post and share articles and videos as well as images with content defaming state leaders and distort the ruling communist party's policies.
Activists said Mr. Tinh is very active in promoting human rights and multi-party democracy, and speak out about the country's issues such as systemic corruption, human rights abuse, widespread environmental pollution and China's violations to Vietnam's sovereignty in the East Sea (South China Sea) and the weak response of the communist government in Hanoi.
There are some video clips on Youtube in which Mr. Tinh tough students to sing a number of patriotic songs composed by dissidents in which the government is criticized for suppressing anti-China activists.
His wife said he is suffering from severe kidney stones. He was planning to seek medical treatment for the problem.
Vietnam continues its political crackdown on local dissent, arresting at least 17 human rights defenders, bloggers and social activists so far this year with different allegations, from "disturbing public orders" to subversion. Hanoi has also convicted numerous activists of trumped-up allegations with lengthy imprisonment up to 20 years in prison, like in the case of democracy campaigner Le Dinh Luong.