Vietnamese Peaceful Protester Sentenced to Eight Years in Prison for "Distruption of Security"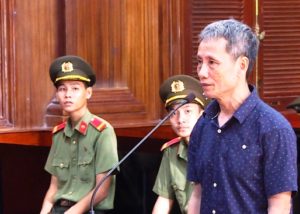 Defend the Defenders, June 28, 2019
On June 28, the People's Court of Ho Chi Minh City unexpectedly held the first-instance hearing to try Truong Huu Loc on allegation of "disruption of security" under Article 118 of the Penal Code for his involvement in the mass demonstration in the city in mid-June last year.
In the short trial which lasted several hours, Mr. Loc, 56, was sentenced to eight years in prison. He was accused of conducting live streams on Facebook to criticize the ruling communist party and its government and call for peaceful demonstration to protest two bills on Special Economic Zones and Cyber Security.
He was also alleged to participate in the peaceful demonstration in HCM City on June 10 and provided bread and drinking water for other protesters.
He was arrested on June 11 last year and held incommunicado, not permitted to meet with his relatives and lawyer.
He is among over 100 peaceful protesters being arrested and persecuted last year. Most of them were tried on allegation of "causing public disorders" and sentenced to between eight months and 54 months in prison.
Dozens of others are still held in pre-trial detention for months, and most of them were charged with "distruption of security" with the maximum sentence of 15 years in jail.
Vietnam is holding around 220 prisoners of conscience, according to Defend the Defenders' statistics. So far this year, the communist regime has arrested around 20 activists, and convicted eight human rights defenders and bloggers with a total 48 years in jail and 17 years of probation.