Well-known Vietnamese Human Rights Lawyer Probed for Involvement in Tax Evasion Case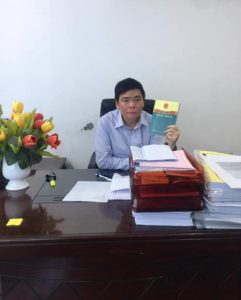 Defend the Defenders, June 3, 2019
On July 2, authorities in Vietnam's central province of Khanh Hoa issued a decision to investigate prominent human rights lawyer Tran Vu Hai and his wife Ngo Tuyet Phuong for their involvement in a tax evasion case three years ago.
According to the state media, the Investigation Agency under the Public Security Department of Khanh Hoa province conducted searching the couple's private residence in Ho Tay district, Hanoi as well as the office of a law firm in which Mr. Hai is the office head while his wife is its director.
It was reported police confiscated a large amount of documentation and money from the office located in Nguyen Thai Hoc street in Hanoi's center. In his statement posted on his Facebook page Vu Hai Tran later on the day, Mr. Hai said that police have taken away many documents not related to the case, and the money from other clients. He requests the Khanh Hoa province's police return his law firm's documents as well as the money.
In the late afternoon of Tuesday, authorities in Khanh Hoa province issued a decision to place the lawyer's couple under limited movement and ban them from leaving the country. The same move was also imposed on the other two persons in the case.
According to sources, three years ago, in 2016, Mr. Hai and his wife bought a real estate from Nguyen Thi Ngoc Hanh and Ngo Van Lam, two residents from Khanh Hoa province. The deal was based not on the market price so the the sellers paid a low selling tax. Authorities in Khanh Hoa consider that the sellers committed tax evasion while Hai and his wife had helped them in the crime.
It is unclear whether or not the charge against attorney Tran and his wife is politically motivated. Observers said the case is not the main purpose of the Khanh Hoa province's police and the Ministry of Public Security. He is targetted because he is a human rights lawyer and an attorney for well-known individuals in the country, including Pham Nhat Vuong, the real magnat and the richest Vietnamese businessman, and former prisoner of conscience Truong Duy Nhat, who was kidnapped in Bangkok in late January and taken to the ministry's T16 detention facility in Hanoi for investigation on charge of power abuse when he was the office representative head of the Dai Doan Ket newspaper in the central city of Danang.
In his public statement, attorney Hai said police seized some documents that are irrelevant to the case, including documents related to the case of Mr. Nhat.
This is also not the first time attorney Hai has been accused of unlawful non-political conduct. In November 2015, the lawyer was briefly "summoned" (or "kidnapped" in his words) by local police to explain accusations of fraudulent appropriation. Hai was released without charge later the same day.
Hai is a member of Hanoi Bar Association. He is known as an outspoken critic of local and central governments in Vietnam. Besides his online posts, Hai has been actively protected political activists, including the high-profile case of Cu Huy Ha Vu in 2011. He is also acting on behalf of Thu Thiem's residents in a national high-profile case concerning wrongful eviction in Ho Chi Minh City.
Vietnam's authorities have charged a number human rights defenders, dissidents and social activists with tax evasion or other allegations in trumped-up cases in order to silence them. The victims include human rights attorney Le Quoc Quan, legal expert Cu Huy Ha Vu and independent blogger Nguyen Van Hai (aka Dieu Cay).