Nghe An Police Say Investigation against Pro-democracy Activist Nguyen Nang Tinh Completed, Proposing to Prosecute Him for "Conducting Anti-state Propaganda"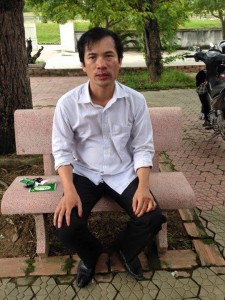 Defend the Defenders, September 17, 2019
The Nghe An province's Police Department said they have completed the investigation against local pro-democracy activist Nguyen Nang Tinh on allegation of "Making, storing, spreading information, materials, items for the purpose of opposing the State of Socialist Republic of Vietnam" under Clause 1, Article 117 of the country's 2015 Penal Code.
The Police Department said it handed over the case to the province's People's Procuracy and propose to prosecute him of the charge with the maximum imprisonment of 12 years in prison.
It has also informed his lawyer that the attorney can meet him to prepare for his defense in the first-instance hearing if the procuracy is approved the police's proposal.
Mr. Tinh, 43, was arrested by Nghe An province's security forces on May 29 who later charged him with "conducting anti-state propaganda."
Authorities in Nghe AN said Mr. Tinh has used his Facebook account Nguyễn Năng Tĩnh to post and share articles and videos as well as images with content defaming state leaders and distort the ruling communist party's policies.
Activists said Mr. Tinh is very active in promoting human rights and multi-party democracy, and speak out about the country's issues such as systemic corruption, human rights abuse, widespread environmental pollution and China's violations to Vietnam's sovereignty in the East Sea (South China Sea) and the weak response of the communist government in Hanoi.
There are some videoclips on Youtube in which Mr. Tinh tough students to sing a number of patriotic songs composed by dissidents in which the government is criticized for suppressing anti-China activists.
Vietnam continues its political crackdown on local dissent, arresting more than two dozens of human rights defenders, bloggers and social activists so far this year with different allegations, from "disturbing public orders" to subversion. Hanoi has also convicted 21 activists in trumped-up allegations with lengthy imprisonment up to 20 years in prison, like in the case of democracy campaigner Le Dinh Luong.
The communist regime is holding at least 239 prisoners of conscience as of September 15, according to Defend the Defenders' statistics.