Higher Court in HCM City Upholds Jail Sentences of Two Female Facebookers Disseminating Leaflets to Call for Street Demonstrations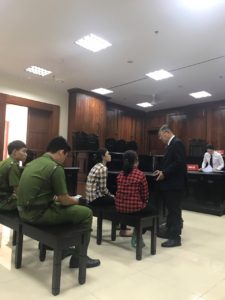 Defend the Defenders, September 23, 2019
In the appeal hearing on September 23, the Higher People's Court in Ho Chi Minh City rejected the appeal of two Dong Nai province-based female Facebookers named Vu Thi Dung and Nguyen Thi Ngoc Suong who were convicted of "conducting anti-state propaganda" under Article 117 of the country's 2015 Penal Code.
During the appeal hearing which lasted few hours, the Higher People's Court upheld the prison sentences given to the two activists by the People's Court of Dong Nai province in the first-instance hearing on May 10. Particularly, 54-year-old Dung was sentenced to six years in jail while 51-year-old Suong was given five years in prison for "create, store, disseminate or propagandize anti-state information and materials."
According to their indictment, from August to October 2018, both used Facebook with the names Salem Trần, Hoa Hong Ha Ngoc, Ma Ma Ma Ma to interact with other Facebook accounts named Tân Thái and Benny Trương to view, listen to anti-state materials. They then called on people to join street protests against two bills on Special Economic Zones and Cyber Security, and against hegemonic China on Oct 13, 2018. In addition, Dung was said to make hand-written leaflets calling for peaceful demonstrations, and give them to Suong who disseminated in Dinh Quan district.
Police in Dong Nai arrested them on October 13, 2018 and held them incommunicado until late April when the case investigation ended. The two activists also said that the local police cheat them by sending a lawyer to represent as the two women' attorney in their first-instance hearing but he did nothing for them. Instead, the lawyer named Dung advised them to make the wrong confession and accept the court's decision.
In the appeal hearing, families of the two activists hired three lawyers, however, they could not help their clients reduce their sentences.
After the first-instance hearing, the European Union Delegation to Vietnam released its statement expressing its concern about imprisoning the two Facebookers. In the statement, the delegation said these cases are part of extensive enforcement of the national security provisions of the 2015 Penal Code and continue the negative trend, of prosecuting and sentencing Vietnamese citizens, including for peacefully expressing their opinions online.
Noting that the two women have peacefully advocated the promotion and protection of human rights as guaranteed by the Vietnamese Constitution, the Universal Declaration of Human Rights, and the International Covenant on Civil and Political Rights, the delegation said their sentences are in direct breach of these international obligations, which Vietnam has itself signed up to, and which the European Union expects full respect for.
The two Facebookers are among 23 activists who have been convicted and sentenced to a total 106 years and six months so far this year, according to Defend the Defenders' statistics. Vietnam is jailing at least 233 prisoners of conscience.