Human Rights Lawyer Tran Vu Hai and His Wife Face Prosecution of Tax Evasion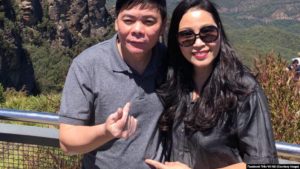 Defend the Defenders, October 8, 2019
Vietnam's state media has reported that the Khanh Hoa province's Police Department has proposed the province's People's Procuracy to prosecute human rights attorney Tran Vu Hai and his wife Ngo Tuyet Phuong and two local citizens of tax evasion under Article 161 of the 1999 Penal Code.
The Police Department reportedly completed the investigation against the four individuals in a property deal in which they allegedly committed tax evasion worth VND276 million ($11,700), and the investigation results had been transferred to the province's People's Procuracy for consideration.
Accordingly, in 2014, Mr. Hai and his wife bought a land parcel from Khanh Hoa province-based citizens Nguyen Thi Ngoc Hanh and Ngo Van Lam. The deal value was about VND16 billion but they reported to the local authorities just VND1.8 billion, by that way the sellers paid less tax for the deal.
Authorities in the central coastal province probed the case in early July and placed the four under restricted travel, including travel abroad. In addition, Khanh Hoa police also conducted searching Mr. Hai's law office and private residence in Hanoi, in which they allegedly took away a large sum of money and documents from other cases.
The four are facing administrative fines of between VND276 million and VND1.38 billion and or non-custodial reform for up to two years if are convicted.
After being probed, Hai and his wife hired four lawyers named Bui Quang Nghiem, Trinh Vinh Phuc, Ha Huy Son and Ngo Anh Tuan to represent them.
It seems that the probe is political as recently the Ministry of Public Security denied Mr. Hai's request for representing former prisoner of conscience Truong Duy Nhat who is accused of "power abuse" after being kidnapped in Bangkok and taken to Vietnam in late January.
Lawyer Hai is well-known for his willingness to represent victims of injustice, victims of forced land appropriation and politically sensitive cases.