Jailed Pro-democracy Activist Nguyen Ngoc Anh Beaten in Detention While Waiting for Appeal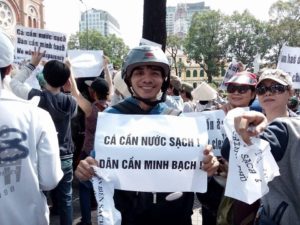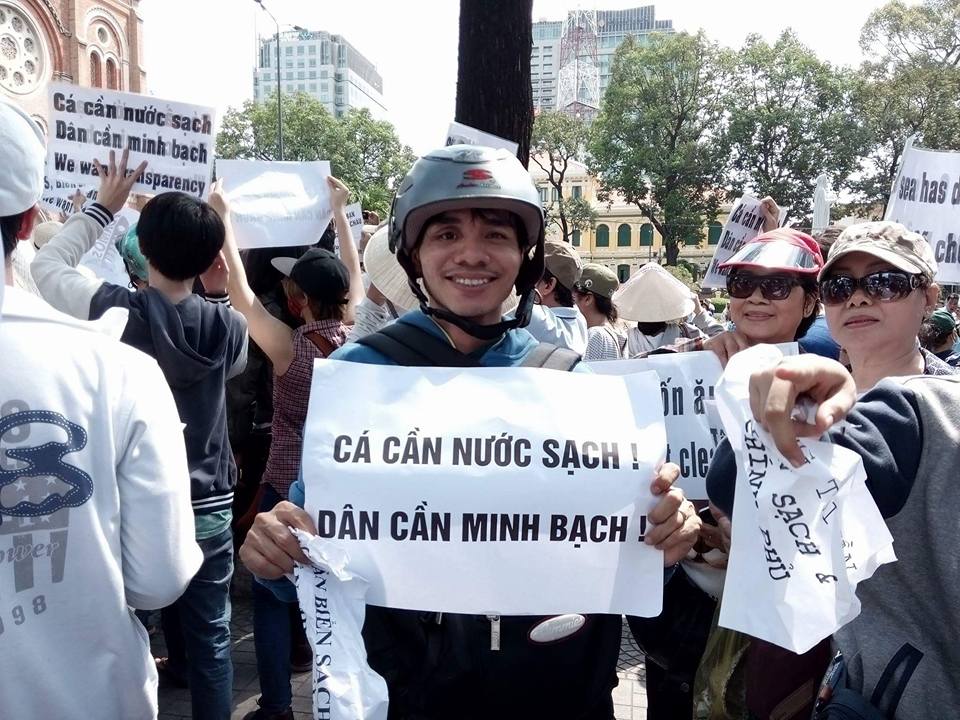 Defend the Defenders, October 11, 2019
Jailed pro-democracy activist Nguyen Ngoc Anh, who is waiting for his appeal after being convicted of "conducting anti-state propaganda" earlier this year, has been beaten by a criminal inmate who was likely acting on behalf of the authorities of Ben Tre province, Defend the Defenders has learned from his wife.
Mrs. Chau, who visited her husband on October 11 in a temporary detention facility under the authority of the Ben Tre province's Police Department, told Defend the Defenders that due to the assault, Mr. Anh suffered serious injuries in his right leg, left arm and head, and he feels difficulty in moving.
A few days after being beaten, when he was still in great pain, he was moved to an isolated cell where he has no support from other prisoners but serves himself.
The suppression started in mid-September when he was sharing a room with two criminals. One of them, Do Cao Cuong from Hanoi, was reportedly threatening all week to kill him. Anh had reported to the prison's authorities but received no response.
On Friday (probably September 20), Cuong was said to attack Anh, kicking him and beat him. Anh collapsed and suffered great pain in his head while Cuong continued to beat him despite the effort of the second inmate who tried to protect the victim. Anh told his wife that Cuong would kill him if the second inmates did not try hard to prevent it.
Once again, the prison's authorities remained silent. A few days later, they moved Anh to another cell where Anh stays alone. By placing him to the new cells, Anh would not be troubled further by violent inmates but he also has no support as he needs while still suffering from the injuries caused by Cuong.
After that, a senior officer from the detention facility came and requested Anh to accept the punishment he received from the first-instance hearing.
Anh, who was arrested on August 30 last year and sentenced to six years in prison and five years of probation in late April this year, is under continuous physical and mental torture of several inmates with whom police officers likely have promised to grant amnesty or reduce their sentences for their dirty works.
The prison's authorities are trying to isolate Anh, not allowing other inmates to contact with him. Police officers confiscated his items and still hold them although he has filled petitions demanding them to return. There is serious maltreatment against other jailed individuals, including constant interrogation. One taken to the facility on August 19 committed suicide after being continuously questioned for several days while another was beaten so badly that he hardly eats and the physical and mental torture against them were acts of revenge for their sympathy to Anh or contact with him.
Mr. Anh, a 39-year-old shrimp grower in the Mekong Delta province of Ben Tre, was convicted for his posts on his Facebook account Nguyễn Ngọc Ánh in which he speaks out about human rights violations, systemic environmental pollution, bad economic management of Vietnam's communist government, China's violations of the country's sovereignty in the East Sea (South China Sea) and Vietnam's weak response.
He is listed as one of 128 prisoners of conscience by Amnesty International and a political prisoner by Human Rights Watch.
Due to the inhumane treatment of Ben Tre province's police, he is suffering from a number of diseases, including sinusitis and bone soreness. Police ignored his request for medical treatment and not allowed his wife to send medicines for him.