Three Pro-democracy Activists Sentenced to 33 Years in Prison for Being Members of US-based Political Group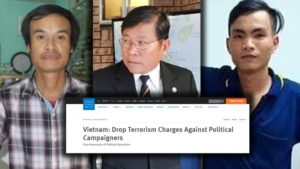 Defend the Defenders, November 11, 2019
On November 11, the People's Court of Ho Chi Minh City found Australian citizen Chau Van Kham and two local activists named Nguyen Van Vien and Tran Van Quyen guilty of "Terrorism to oppose the people's government" under Article 113 of the country's Criminal Code just because of their membership in the California-based Viet Tan (Vietnam Reform Party), Defend the Defenders has learned.
In a short hearing which lasted a few hours, the court sentenced Vietnamese Australian Mr. Kham, 69, was sentenced to 12 years in jail while Mr. Vien, 48, was given 11 years in prison while Mr. Quyen has to serve his ten-year imprisonment. The first will be deported after serving his sentence while the remaining two have to be under 5-year probation afterward.
During the trial, lawyer Trinh Vinh Phuc defended the activists, saying they did nothing wrong with the exception that Mr. Kham used a fake ID to enter from Cambodia to Vietnam. However, the judge reportedly said their membership in Viet Tan is a crime since the communist regime considers it a terrorist organization.
Mr. Kham and Mr. Vien were arrested on January 13 this year during their meeting in HCM City while Mr. Quyen was detained ten days later. In the beginning, they were charged with "conducting activities against the people's government" under Article 109. However, the Police Department of HCM City changed their charge after finding no evidence to prove the initial allegation.
Mr. Vien is a member of the unsanctioned political group Brotherhood for Democracy, more than ten key members of which have been convicted of subversion and other allegations in the national security provisions of the Criminal Code for their peaceful activities. Vien is an environmentalist in Quang Nam province. He has been active in condemning the Taiwanese Formosa Company for discharging a large amount of industrial waste into Vietnam's central coast and caused a devastating environmental disaster in the region in 2016. Due to his activism, he and his family have been under the persecution of the local government so he was forced to leave his home province to relocate to HCM City, the biggest economic hub in the Southeast Asian nation. He was said to join Viet Tan during meetings with Mr. Kham, who is a senior member of the group in Australia.
There is little information about Mr. Quyen, who is an electrical worker installing cameras for private houses. He reportedly became a member of Viet Tan a few years ago.
During the visit of Australian Prime Minister Scott Morrison to Hanoi on August 22-24 and the 16th annual Australia-Vietnam Human Rights Dialogue on August 29, Human Rights Watch Australia urged the Australian government to address Vietnam's human rights issues and raise questions about Mr. Kham. The right group also issued a press release calling on Hanoi to drop the charge against him and freeing him immediately and unconditionally.
The arrests and the conviction of the trio are part of Vietnam's ongoing crackdown on the local dissent amid increasing social dissatisfaction triggered by the failures of the communist regime to deal with the nation's issues, including systemic corruption, widespread human rights abuse, serious environmental pollution and China's violations of the country's sovereignty in the East Sea (South China Sea).
Hundreds of political dissidents, social activists, human rights defenders, and Facebookers, as well as ordinary people, have been beaten, arrested and convicted of allegations mostly in the national security provisions of the Criminal Code in the past few years.
So far this year, 30 activists have been convicted and sentenced to a total 142 years and six months in prison and 30 years of probation in trumped-up cases and trials which failed to meet international standards of a fair trial.
Vietnam is holding at least 237 prisoners of conscience, including 26 activists in pre-trial detention, according to Defend the Defenders' latest statistics.