Vietnam to Try Pro-democracy Activist Pham Van Diep on Allegation of "Conducting Anti-state Propaganda" on November 26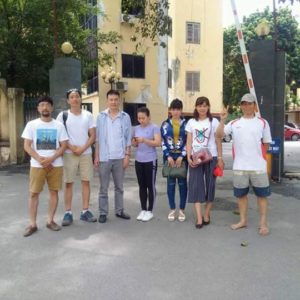 Defend the Defenders, November 22, 2019
The People's Court of Thanh Hoa province will hold the first-instance hearing on November 26 to try local pro-democracy activist and human rights defender Pham Van Diep on the charge of "conducting anti-state propaganda" under Article 117 of the country's Criminal Code.
Mr. Diep, 54, was arrested on June 29 by security officers of the province's Police Department. He was said to use blogs and Facebook accounts to address human rights abuse in Vietnam.
He went to Russia in 1992 to study a bachelor's degree there and stayed in the country until 2016. During that time, he had difficulties with Vietnam's regime when he returned his home country as sometimes he was not permitted to enter the country.
In 2016, he tried to enter Vietnam from Laos and was arrested by the Lao security forces. Later, he was sentenced to 21 months in prison for "using the Lao territory to work against Vietnam." He was released in March 2018 and returned to his parents' house in Thanh Hoa province.
He participated in anti-China protests in Hanoi in 2011, and the demonstration in mid-2018 against two bills on cybersecurity and special economic zones.
On November 20, Human Rights Watch issued a press release calling on Vietnam's communist government to free Mr. Diep, saying Diep's all activities in the past 17 years aim to voice his opinions about important Vietnam's social and political issues and protest his persecution for speaking out. There is no good reason for Vietnam to treat him as a criminal, said HRW's Asia Advocacy Director John Sifton.