Kon Tum Police Contiously Harash Wife of Prisoner of Conscience Le Van Phuong after Imprisoning Him for "Conducting Anti-state Propaganda"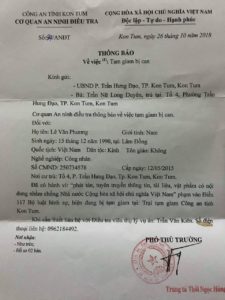 Defend the Defenders, January 19, 2020
Police in Vietnam's Central Highlands province of Kon Tum have harashed Mrs. Duyen after imprisoning her husband Le Van Phuong on the allegation of "conducting anti-state propaganda" under Article 117 of the country's Criminal Code, Defend the Defenders has learned.
Talking to Defend the Defenders, Mrs. Duyen said since her husband's arrest in mid-October 2018, police in Kon Tum summoned her to a local police station where police officers threatened her, pressuring her to persuade him to confess his guilt.
However, she has never persuaded her husband to give up because he is innocent, she told Defend the Defenders.
Duyen said her 30-year-old husband has criticized the communist regime on many issues, including human rights violations, failure to deal with systemic environmental pollution, and lack of proper program to deal with China's aggressive acts in the East Sea (South China Sea).
He participated in a number of peaceful demonstrations, including the mass protest on June 10, 2018 regarding the two bills on Special Economic Zones and Cyber Security.
Phuong was arrested on October 17, 2018 for sharing about social issues on his Facebook account. He was tried on August 2, 2019 and sentenced to seven years in prison and three years of probation.  On November 12, 2019, he was transferred to Gia Trung prison.
As he holds an isolated life, when he was arrested, his friends didn't know, he didn't have a lawyer while the media wasn't aware of his case so there was no media report on him.
Phuong and his wife have a four-year-old son.
Based on the facts provided by his wife, Defend the Defenders considers Phuong as a prisoner of conscience.