Hmong Accused of Subversion: Two with Life Imprisonment, Nine Others with Total 84 Years in Jail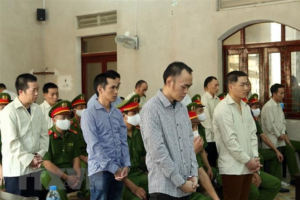 Defend the Defenders, March 19, 2020
Vietnam's authorities have convicted 11 people from Hmong ethnic minority of subversion for their plan to establish an independent state in the country's northwestern region, according to the state-run media.
After three days, on March 18, the People's Court of the northwestern province of Dien Bien found 11 Hmong people guilty of "attempts to overthrow the people's government" under Article 109 of the Penal Code, sentencing Sung A Sinh and Lau A Lenh to life imprisonment, giving 20 years in prison to Hoang Van Pao.
Eight others Sung A Do, Giang A Va, Sung A Sinh, Giang A Dia, Giang A Sinh, Ho A Hu, Chang A  Sua and Hoang Van Cho were sentenced to eight years in jail each.
According to the indictment, under the leadership of Sung A Sinh and Lau A Lenh, the defendants formed a group to fight for more autonomy for Hmong people and the possible establishment of an independent state.
Hmong is one of more than 50 ethnic minorities in Vietnam. During the Vietnam War, Hmong people sided with the American forces to fight against the communist troops. After taking over the southern region, the communist regime has harassed Hmong people for revenge.
Facing constant persecution, Hmong people have fought back. In 2011, thousands of Hmong people gathered in Muong Nhe district to demand more autonomy and their native land overtaken by Viet majority. Their uprising was violently suppressed by Vietnam's communist regime which reportedly deployed heavily-equipped army and police to persecute Hmong people. Some deaths were reported and hundreds of others were imprisoned.
Defend the Defenders has contacted Hmong activists exiled in Thailand about the group convicted today. One guy told Defend the Defenders that the group may be linked to the US-based Hmong people who encourage people in Vietnam to demand for more autonomy and set up an independent state for Hmong people.