Vietnamese Well-known Facebooker Threatened with Heavy Punishment For Disseminating News on Covid-19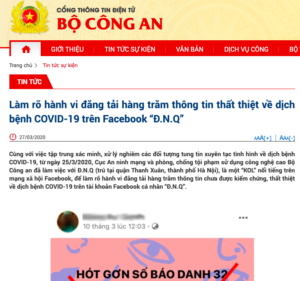 Defend the Defenders, March 28, 2020
Vietnam's communist regime has threatened to impose hard punishment on a well-known Facebooker coded Đ.N.Q for "disseminating fake news on Covid-19 which causes social disorders amid increasing crackdown on online government critics.
The Ministry of Public Security has said on its website that the Department of Cyber Security and High-tech Crime Prevention has summoned the Facebooker for questioning about his online posts.
Accordingly, the Facebooker, likely Đặng Như Quỳnh, is accused of obtaining information, mostly from state agencies, adding his personal views and posting on his Facebook account. In many cases, his posts contain some information as the statements released later by state agencies like the Ministry of Health.
Police have accused the Facebooker of disseminating "fake news" and "unverified information," and allowing other Facebookers to make comments unfavorable for the regime.
He was said to have disseminated more than 200 articles regarding Covid-19 infection in different localities in Vietnam since February. Each of his articles has thousands of "Like," "comment" and "share," and they are considered sources of "fake news regarding Covid-19" in Vietnam's social networks in the past months.
Police said due his posts have caused social disorders, affecting the people's normal lives by making many people to resettle and store food and necessaries.
The Facebooker has been forced to remove his 216 posts with unverified content and those having distorted comments regarding Covid-19 infection in Vietnam.
The ministry said its Department of Cyber Security and High-tech Crime Prevention is collecting information for his violation and will decide what measures to impose on him. He may face criminal charges of "abusing democratic freedom" with imprisonment of between three and seven years in prison or even "anti-state propaganda" with imprisonment up to 12 years in jail, or at least administrative fine of up to VND30 million ($1,280).
However, many respected Facebookers said the information in Đặng Như Quỳnh's posts is correct and faster than the information given by state agencies. Quynh is a businessman conducting a number of charity programs, including programs to help people deal with Covid-19. He was once honored by VTV, the state-run central television canal.
Vietnam has reported nearly 170 cases infected with Covid-19 as of March 27 and keeps tens of thousands of people in quarantine.
Along with taking measures to prevent Coronavirus from spreading, Vietnam's authorities have been cracking down Facebookers and bloggers who try to deliver timely and valuable information about the deadly outbreak given the state-controlled media has been restricted to disseminate information to the republic. Tens of millions of Vietnamese have relied on the social network as the communist regime is implementing strict censorship.
Two weeks ago, Vietnam's state-controlled media reported that 654 Facebookers had been summoned to the police stations for interrogation about their posts on the social network regarding the deadly Coronavirus outbreak, and 146 of them had been fined of between VND10 million and VND12.5 million.
Citing the information from the Ministry of Public Security, newspapers reported that there have been around 900,000 posts on social networks about the devasting disease coming from China's Wuhan since its outbreak in late 2019.
The ministry said numerous articles and videoclips posted on Facebook and other social networks are untrusted or unverified which are harmful to the public. A number of famous figures have also disseminated "fake news," the ministry said.
On February 12, the Department of Information and Communication in Ho Chi Minh City imposed an administrative fine of VND10 million on celebrities Dam Vinh Hung, Cat Phuong and Ngo Thanh Van for posting "untrue information," local outlet Zing.vn said without giving details.
Newspapers reported that in early March, Hanoi police detained a local resident named K.P.T. after he said on Facebook that the Covid-19-infected patient number 17 had participated in a number of public events few days before having disease symptoms while the police said she had been self-quarantined after landing in Noi Bai International Airport in a flight from London.
In mid-March, several Facebookers disseminated that Nguyen Quang Thuan, former chairman of the Vietnam Academy of Social Sciences and incumbent vice chairman of the ruling communist party's Central Theoretical Council, had visited his girlfriend-lover immediately after arriving in Hanoi from the same flight with the patient No. 17, three days before being hospitalized for the urgent treatment of Coronavirus. Police said the information is not corrected and fined these bloggers.
According to statistics of police, authorities in Hanoi have worked with 44 Facebookers about online posting with "incorrect information" while the number in the central province of Thanh Hoa was 20 and the northern province of Lao Cai- six.
All of them have been forced to admit that their posts were with "fake content" and delete their posts as well as pledge not to repeat.
There has been no case in which a Facebooker is criminally probed for their "incorrect posts" regarding the Wuhan virus spreading, according to the local media.
Vietnam, bordered with China- the world epicenter of Coronavirus with tens of thousands of people infected and thousands of deaths, and has never closed its border gates with the northern country. In recent months, there have been a number of cases in which people suddenly died in different locations but the local authorities reported later that their deaths have not been related to the deadly virus. The regime tends to make the disease consequences lighter or even hide them in fear of affecting the country's economic growth, the sole reason for the communists to keep their power.