Amid UN Call for Releasing Prisoners of Conscience, Vietnam Sends Second Facebooker to Jail within Two Days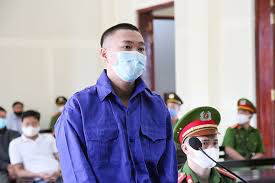 Defend the Defenders, April 28, 2020
Amid the call of UN High Commissioner on Human Rights Michelle Bachelet to release prisoners of conscience in order to protect their health from the deadly Coronavirus infection, Vietnam's communist regime has sent the second Facebooker named Phan Cong Hai to prison for online activities, Defend the Defenders has learned.
The state-controlled media has reported that on April 28, the People's Court of the central province of Nghe An convicted the 24-year-old man of "conducting anti-state propaganda" under Article 117 of the country's Criminal Code, sentencing him to five years in jail and three years of probation.
According to the court's indictment, Hai was said to use Facebook to post statuses with content "against the party and state, defaming central and local officials" and "running counter to party and state's policies."
The first-instance hearing lasted only two hours, and Hai had no lawyer to provide legal assistance for him, Defend the Defenders has learned.
Mr. Hai, who used Facebook as a social network platform to post support for activists jailed in protests against the government's handling of a toxic dump in 2016, as well as other controversial issues, was arrested on November 19, 2019. Authorities issued an arrest warrant for him seven months before after they found his Facebook accounts "Người Việt xấu xí" and "David Nguyen" with posts harmful for the communist regime.
Hai is the second Facebooker being imprisoned within two days. On April 27, authorities in Ninh Kieu district, Can Tho City, convicted local resident Chung Hoang Chuong of "abusing democratic freedom" under Article 331 of the Criminal Code for his posts on his account Chương May Mắn to criticize the Vietnamese police attack in Dong Tam commune on January 9 this year in which authorities deployed thousands of riot police to assault land petitioners, killing local spiritual leader Le Dinh Kinh and arrested around 30 others in a land dispute case.
Facebook is massively popular in Vietnam and is often used as a tool for activists and civilians to disseminate news in the one-party state, which bans all independent media, and the hardline communist regime ramps up pressure against dissent on the social media platform. The social media giant has come under fire for complying with Hanoi to restrict content "deemed to be illegal", with rights group Amnesty International calling Facebook "complicit" in Vietnam's online censorship.
Vietnam is holding at least 245 prisoners of conscience and two dozens of them were jailed for their Facebook posts, according to the latest statistics of Defend the Defenders.