Dissident Blogger Pham Thanh Arrested on Allegation of "Conducting Anti-state Propaganda"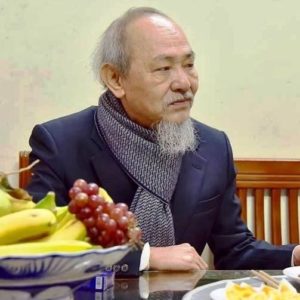 Defend the Defenders, May 21, 2020
On the morning of May 21, police officers from the Hanoi Police Department arrested local dissident blogger Pham Thanh and took him to Hoa Lo temporary detention facility under the authority of the city's police.
His family said he is accused of "conducting anti-state propaganda" under Article 117 of the country's Criminal Code with imprisonment of between seven and 12 years if he is convicted. Police also announced that he will be held incommunicado for at least four months, according to the common practice Vietnam's police implement in political cases.
After announcing the arrest, Hanoi police also conducted a search of his house in Hanoi, confiscating two sets of computers and a printer as well as a number of his books. Police officers said his allegation was focused on his newly publicized "Thế thiên hành đạo hay Đại nghịch bất đạo," a book in which he strongly criticizes incumbent communist leader Nguyen Phu Trong, who is also the country's president.
Mr. Thanh, 68, is a retired reporter of the state-controlled Voice of Vietnam Radio (VOV). He has written a number of books in many of which he criticized the ruling Communist Party of Vietnam and its leaders, including late President Ho Chi Minh and incumbent General Secretary cum President Nguyen Phu Trong.
He had blog named Bà Đầm Xoè on which he has posted his writings on politics and social issues.
The arrest of Mr. Thanh is part of Vietnam's intensified crackdown on the local dissent as the ruling Communist Party of Vietnam is preparing for its 13th National Congress slated in early January next year.
So far this year, Vietnam's communist regime has arrested eight activists and sentenced five dissidents with total imprisonment of 12 years and three years of probation. Currently, the regime is holding at least 248 prisoners of conscience, according to Defend the Defenders' latest statistics.