Three Facebookers Fined for Posting Fake Statement of Senior Official Regarding Covid-19 Pandemic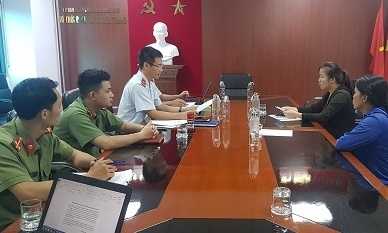 Authorities in Quang Ninh interrogated Facebooker Mốt Ngọc Sen on July 28, 2020
Defend the Defenders, July 29, 2020
Vietnam's authorities have punished three local Facebookers for posting a fake statement of Deputy Prime Minister Vu Duc Dam regarding the ongoing reoccurrence of the Covid-19 pandemic in the country.
The state-run media reported that Ms. Nguyen Thi Hoa, who is a famous singer under the name Hoa Minzy residing in Ho Chi Minh City, is one of the three Facebookers. Others are Ms. V.T.T.H.  from the central province of Thua Thien Hue with Facebook account Vương Huyền Túi and Ms. Dang Thi Thu Sen from the northern province of Quang Ninh who has Facebook account Mốt Ngọc Sen. They were requested to delete their controversial posts and pay administrative fines of VND7.5 million ($32) each.
All three Facebookers were summoned to the local police stations for questioning about their posts in which they shared the statement they believed coming from Mr. Dam, who is heading the National Committee for Covid-19 Prevention and Control. The "fake statement" calls on Vietnamese nationwide to be cautious regarding the new wave of Coronavirus in the country and advise all not to go to Danang, the epicenter of the deadly virus reoccurrence.
Citing the police information, newspapers reported that the three Facebookers admitted their wrongdoing and pledged not to repeat in the future.
They are among hundreds of Facebookers across the country who have been interrogated and fined between VND5 million and VND15 million for their posts on their Facebook accounts regarding the transmission of Coronavirus and its consequences in their localities or others from March this year. Among punished individuals are famous singer Dam Vinh Hung and actors Ngo Thanh Van and Cat Phuong.
Meanwhile, after about 100 days having no new Covid-19 infection, Vietnam seems to suffer the new wave of the transmission, starting from the central city of Danang, where dozens of smuggled Chinese citizens were detected while the virus outbreak reoccurs in the giant northern neighbor.
So far, new infections of Covid-19 have been detected in nine cities and provinces, including Hanoi and HCM City. Authorities have imposed partial blockades in Hanoi and Danang while medical workers have been deployed to conduct disinfection sprays in areas where infected individuals were detected.
Vietnam's authorities vow to apply all measures, including online crackdown, to cope with the Covid-19 reoccurrence. They use the government decree on the regulations of administrative punishment on communication and cyber technology to deal with online posts regarding the Covid-19 occurrence and spread which are considered harmful for the communist regime.